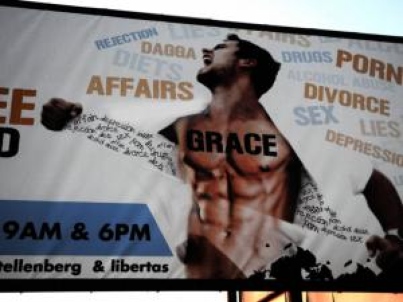 The removal of the word "homosexuality" from a Pretoria church's billboard has resolved the complainants' concerns, the Advertising Standards Authority (ASA) Directorate says in a ruling made today.
The Light of Nations Church said it would remove the offending word after a complaint was laid with the ASA about the board which featured an image of a man with his shirt torn open and the word "grace" on his chest and words such as "affairs", "homosexuality", "dagga", "rejection", "porn" and "depression" on the billboard.
In the ASA's ruling document it says that three complainants, Henri Henning, Francois Joubert and Vernon G Foster, submitted that the billboard leads the reader to believe that the church is able to free/heal homosexual persons from their sexual orientation. It says that the second complainant submitted that the billboard was dishonest as it bundled homosexuality with using drugs, pornography, having extramarital affairs and divorce. He added that the billboard discriminated against the LGBT communities.
The ASA says the church said that the billboard aimed to highlight aspects of everyday life that people deal with. It firmly believed that the light of God can free people from any internal struggles, and the billboard was merely an invitation to people to seek help from the church. It was not meant to discriminate against any group. It added that it had removed the word "homosexuality" from the billboard.
Because the removal of the word has resolved the dispute, the ASA Directorate says there is no reason for it to consider the merits of the matter.