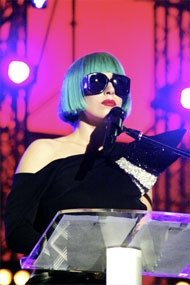 Originally published in Channel 24
The South African Council of Churches is planning to prevent Lady Gaga from performing in South Africa, reports Afrikaans daily newspaper Beeld.
Lady Gaga is set to perform two stadium shows in South Africa and will be in Johannesburg on November 30 at the FNB Stadium and in Cape Town on 3 December at the Cape Town Stadium.
The church group has now raised their concerns, stating that they are in fact worried about the "destructive impact" Lady Gaga can have on South Africa's youth.
This is not the first time the pop star has been slammed by a prominent group, and has also faced allegations that she is Satanist.
With her recent tour to the Philippines in May, a group of Christian youth protested against Lady Gaga's "Born This Way" tour,
Reverend Mxolisi Sonti, secretary of the youth forum, told Beeld they are afraid of the extent of Satanism in South Africa at this time, and that Gaga's visit could lead to an exponential growth of Satanism.
He also claimed that if the government could stop the Dalai Lama from coming to South Africa, then they can stop Lady Gaga as well.
The group is currently planning a march to the department of Arts and Culture in Pretoria on Friday, where they will be handing over a written request to the department in a plea to stop Gaga from coming to South Africa.
Vuyani Pule confirmed to Channel24 that the march will be taking place on Friday.