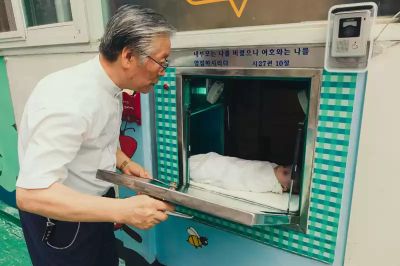 DVD sales will benefit children's mission
Christian Art Media in association with Focus on the Family and Provident Films, will release "The Drop Box" (view trailer here) in June 2015. This feature-length documentary tells the story of one man's efforts to protect and care for newborn babies who might have otherwise been abandoned on the streets of Seoul, South Korea. Pastor Lee Jong-Rak built a "baby box" – a safe harbour to welcome and care for these babies. So far, more than 600 babies – many of whom have disabilities – have been helped.
"'The Drop Box' is ultimately a story of hope," said Focus President Jim Daly. "Even in the midst of a heart-wrenching situation, we see the heart of a father's love in Pastor Lee. Not everyone is called to do what he's doing or adopting a child themselves, but all Christians are called to care for orphans. Watching this documentary changes a person – it draws you to care even more deeply for the most vulnerable among us."  "The Drop Box" is the Second Film in Focus' Series of Documentaries "The Drop Box" is part of Focus' Reclamation Series, "Irreplaceable" being their debut. These documentaries focus on the importance of marriage, family and a Christ-centered response to the social issues presented in each film.  Daly explained why Focus is investing its energies toward film efforts: "There's a reason why Jesus chose to teach in parables. We're drawn to compelling stories, especially those told through the power of film. Audiences will be empowered to make a difference – it happened with 'Irreplaceable,' and it will happen with 'The Drop Box.'"
Abandoned babies are a global issue, and sadly, all too common in South Africa. To support our local initiative, Christian Art Media will donate R10 from each DVD bought to South Africa's "Door Of Hope – Children's Mission" in Johannesburg, which is featured in the film. Door Of Hope saves on average 100 babies lives annually. In 1999 the church made a hole in their wall and a 'baby binstaff/babybin' was installed allowing for mothers to leave their babies anytime day or night. The moment a baby is placed in the bin, careworkers on duty receive an electronic signal alerting them. The baby is taken in and the anonymity of the donor ensured. Approximately 40-50 babies were being dumped every month and left to die of starvation or exposure. Cheryl realized that many of those desperate women and girls may well have acted differently had there been an alternative. "We are excited to  hear about the release of the Drop Box film into South Africa as it mirrors what we at Door Of Hope are doing. The R10 donation we will receive for each unit of Drop Box sold will go a long way with the day to day operations of DOH and will ensure that we can continue SAVING LIVES, RELYING ON GOD and IMPACTING ETERNITY. 'Not one sparrow can fall to the ground without your father knowing it, you are more valuable to Him than many sparrows ' Matt 10:29-31", says Nadene Grabham, general manager of DOH.
"The Drop Box" was directed by Brian Ivie, a graduate of the University of Southern California's School of Cinematic Arts. "Through this movie, we're hoping that people would see more than Christians working on behalf of orphans," said Ivie. "We're hoping that people would see a God who has always and will always love the broken and the lost." Ivie was personally impacted as he directed "The Drop Box." As he accepted the "Best of Festival" award for the documentary at the 2013 San Antonio Independent Christian Film Festival, Ivie told the audience: "I became a Christian while making this movie. When I started to make it, and I saw all these kids come through the drop box – it was like a flash from heaven. Just like these kids with disabilities had crooked bodies, I have a crooked soul. And God loves me still." The Dove Foundation awarded "The Drop Box" five Doves, the highest rating available, in its review of the documentary.