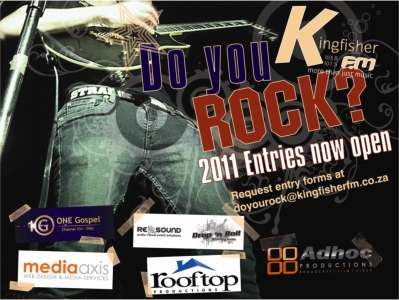 Kingfisher FM's annual 'Do You Rock?'-music competition has become a feature in Nelson Mandela Bay's calendar, with local young musicians looking forward to this highlight towards the end of each year.
This year entrants will compete for a prize valued in excess of R200 000, including a 3-track CD recording, music video, website & the opportunity to perform live on national TV.
Partners in this year's 'Do You Rock?' include big brands like Rooftop Productions, Ad Hoc Productions, Drop & Roll Studios & Urban Brew's DsTV Channel, One Gospel.
'This year's competition is the biggest yet', said Luthando Shosha of the Kingfisher FM Breakfast Show team.  'The prizes are amazing.  Even if you just make it to the top-10 you're already a winner.'  The top-10 will perform live on 18 November for a crowd of eight hundred fans.  At this event the well-known musician John Ellis will be the guest artist.  Ad Hoc Productions will run a spectacular multi-media production & record the event with multiple cameras for a 'Do You Rock?-live'  DVD release.
Tickets for the event of the eighteenth will be available from Computicket.
Musicians interested in entering 'Do You Rock?'-2011 can get entry forms & details from doyourock@kingfisherfm.co.za
Entries close on the 8th of November.