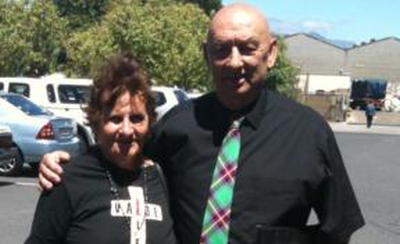 The Christian couple who were evicted from the Gaslight Café in Muizenberg, Cape Town on Thursday over anti-abortion messages on their clothing have urged Christians who sympathise with them not to boycott the restaurant but rather to pray for the restaurant team and to support it as patrons.
The couple, Peter and Terry Throp, who are committed pro-life activists, also say they feel that as Christians they cannot challenge the owner of the Gaslight Café for asking them to leave, as they would then have to argue against their own stance that Christian owners and managers have the right to reserve admission.
The couple's comment on right of admission brings to mind a trend in recent years in which Christian owners of establishments who have refused to provide services that go against their convictions have faced legal action and threats of legal action — such as the case of the Beloftebos wedding venue which we reported on the same day as we posted the news of the Throps' eviction.
In an email to Gateway News today the Throps say: "Dear brothers and sisters in Christ the King. After prayer and much discernment we have reached peace and understanding Re; the news flash below [a reference to an email they sent on Thursday describing their eviction from the restaurant].
"Our calling is to uphold a Truth. 'Abortion is evil' and to value God given LIFE. We have experience that when people are convicted by this message of truth, they will try to 'gag' it, and this seem to be the case here with the Gas light manager.
"As Christens we cannot challenge the manager of the Gas light. For we would have to argue against our very own stance of the right of Christen managers/owners to have their right to reserve admission.
"We believe management/ owners should have the right to reserve admission.
"The Gas light does not need boycott, this is not Christen. Rather we should pray for the manager and for his staffs welfare we should eat and drink their fine coffee. May I suggest that you wear clothing proclaiming our Lord as KING when visiting the Gas light.
"God bless."