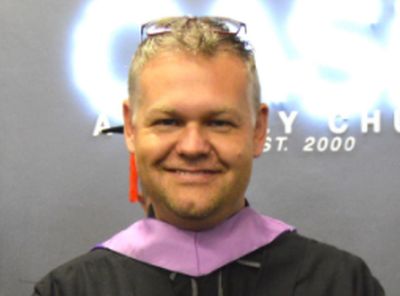 A Port Elizabeth pastor has realised one of his dreams with the establishment of an affordable and accessible Bible college in the city offering accredited qualifications.
Trinity Bible College (TBC) a campus of Trinity International Bible University (TIBU) launched in the city last year and among the first graduates in December was the dean, Pastor Clinton Swartz, who received his Masters in Ministry degree.
Swartz, who started studying with TIBU in 201o and has been on their staff since 2013, said it has has always been his dream to make a difference in the kingdom of God by providing Bible education to as many students as possible without the financial barriers of typical universities.
He said the PE college, which offers SAQA-accredited courses which are recognised by all South African universities and by overseas universities that accept SA qualifications, was very accessible because the requirement for admission was a matric certificate and annual student fees were probably less than registration fees at typical universities.
He said most of the students who graduated in December started their second year a week ago. Registration for the year was still open until the end of April.
"This class is made up of so many different students from all over the city. Some are young people in love with God, some are just people hungry for the Word, some have stepped into their destiny and then we have the pastors who will need this qualification when regulations change," he said.
The college offers a range of ministry and counselling classes. The counselling was added this year and students completing the three-year degree will be eligible to register with the South African Council of Counsellors.
Some programmes are offered on a correspondence basis but are run through the PE campus in Cotswold where assistance is available to students and lectures are held. Students graduate every year — with a certificate after one year, a diploma after two and a degree after three. The college is geared to teach up to PhD level.
More information is available online at www.trinitybiblecollege.co.za and Faccebook: Trinity Bible College, Port Elizabeth or by contacting Sandy Peasnell at WhatsApp 0847054383 OR Peasnellsandy21@gmail.com