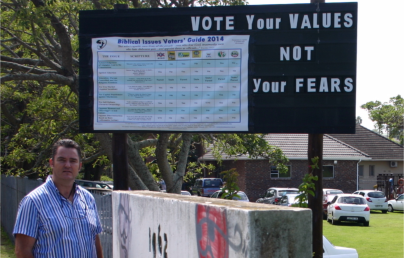 An East London pastor  is using church advertising space to challenge Christian citizens and his congregation to vote their values and not their fears in the coming national election.
Pastor Stef Davi of Stirling Worship Centre is displaying a Biblical Issues Voters' Guide on a notice board facing a street in front of his church, and on a door and window pane at the entrance to the church. 
"There have been a few challenges from the public but once the facts were communicated in light of Gods word many people had been grateful and admitted to ignorance on what all our political parties stood for," says Davi.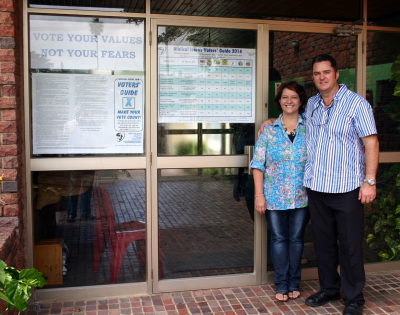 He says his desire is is "to see the body of Christ in East London unified and to understand our responsibility by voting Godly values" and for the Church to "consider sharing this information at every possible Christian fellowship or gathering leading up to our general elections".  
Davi took a similar stand before the local government elections in 2011, when he displayed the Biblical Issues Voters' Guide on the notice board in front of his church, and issued a call to Christians voters in a letter that was published in the Daily Dispatch newspaper.
Commenting on his current pre-election campaign Davi says that the voting mindsets of many Christians need to be challenged because they have become conditioned to put humanistic worldviews above God's Word, thereby committing idolatry.
Referring to a recent Christian intervention which successfully persuaded to Parliament to exclude churches and public benefit organisation from provisions of the Women Empowerment and Gender Equality Bill, he says: "In  1 Chronicles 12:32  we read of the men of Issachar who understood the times and knew what to do. In the same way God has raised up many of our nation's leaders with a prophetic voice who have received enough support to influence the SA National Assembly which overwhelmingly voted in favour of the Wedge Bill. If this did not happen our religious freedom as church Leaders would be constitutionally removed,  empowering the State to dictate what we may and may not preach". 
The Biblical Issues Voters' Guide that Davi has displayed was developed by Christian Action Network based on a survey of parties policies on various issues. A more detailed and interactive version of the guide is available online.