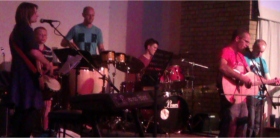 The ambitious 30-day Olympic Burn (non-stop worship and prayer for the 9 million visitors coming to London for the games from July 27 to August 12) started this week at Cornerstone Church just 5km from the Olympic Park.
Sean Gooch, one of the Olympic Burn worship leaders emailed us this feedback from last night: "Just to say last night was day 5 and we took the 8-10pm slot, people from 5 different churches in our band! Including Jacob on jembe (he's 10) and brother Caleb on bongos (He's 8).
 
"There are a group of folks there from French Polynesia (can't find it on google maps but in the South Pacific) who have come to bless the Olympics and as a thank you to British missionaries who took the Gospel there!
 
"We sang, 'How he loves us' in French as a result and then in Spanish as the guy leading after us leads a Burn in Malaga (southern Spain).
 
"The Lord is moving in the place, we know people are encountering him and that the atmosphere is shifting. Someone had a word/picture about fire carrying angels being displaced during our calling on heaven for an outpouring like we've never seen before.
 
"People are starting to pour in from all over the world and as soon as the Olympics starts there will be 2 or 3 daily sessions where teams will go out from the Cornerstone to release Healing on the Streets…"
Gateway News will be touching sides with Sean each week of the Burn for an update of this unique outreach aimed at impacting nations with the love and power of Jesus.