[notice]A monthly column in which KWAKANYA NDLELENI shares testimonies of young people who are radical for Jesus.[/notice]
"The Most amazing thing in the world is somebody who knows who they are and where they are going and knows what they were created to do." – Bishop TD Jakes
Asisithi Mbewu, a 22 year old from the Eastern Cape works as a psychology intern and a "No Apologies" facilitator at Focus On The Family Africa in Durban and below is one of her many testimonies that make us aware of the mighty God we serve. She is a living testimony of God turning ashes to beauty. Not once did she decide to forget about God, but her tough circumstances moved her closer and closer to God where she found strength, hope and love.
This is Asi's testimony: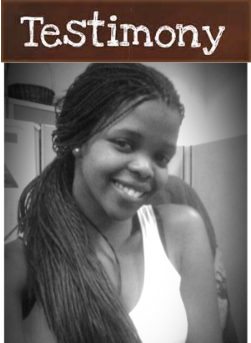 "One Sunday night, on the 18th of September 2012 our home burnt down. We lost everything that our parents had left us, everything that we had as memory of them and our childhood. I found out the next morning about the tragedy that had happened and I was in disbelief. I wanted to go back to sleep hoping to wake up and be told that it was all a bad dream. But I was forced to face reality.
"Everything in me was weak. I was weak in my knees so much that my friend had to hold me to help me stand as all the energy I had was gone. I didn't know what to pray to God and my heart was aching and nothing in me wanted to live yet another minute or day. I remember I was shaking, all my mind wanted to know was 'why God?' 'What now?' 'What are we supposed to do now?' And it is amazing that a week before our home burnt down, my older sister had lost her job and no one was working and I was about to begin my exams for my Honours Degree in Psychology.
Everything was gone
"Not only did we not have parents now, we had no money, no one was working and our home had burned down. We had no place to call home and my younger sister was in hospital, giving birth to her first child. Hope was gone and everything in me wanted to deny the existence of God in my life as I desperately wanted to believe that no loving God would allow such adversity to happen in our lives. But in the midst of that I had to remind myself that nothing that happens in my life — in our lives — catches Him by surprise and nor does He suddenly become a non-existent God because of the unfortunate situations we find ourselves in.
"On the night that the house burnt, my younger sister had sent me an SMS to tell me that she didn't remember switching off the stove before she left for hospital and she wanted me to call my brother to ask him to go check it out. But I didn't have airtime, so I prayed 'Lord if the stove is on _ I ask in the name of Jesus that you switch it off and if it is off I ask for your presence to reside on our home. Amen' :-) then I had confidence that my God is the God of the impossible and nothing is impossible for Him. And I slept with contentment and no doubt that God would switch the stove off and that I'd still have a home the next morning."
"I had to tell myself that I don't need to understand what is happening or why it is happening, I need to trust. and believe in my God as His words declares. I literally had to bombard myself with scriptures that spoke life and about life on my dead end situation of not knowing 'what now?'. "
"One can imagine the shock I had when I heard that the opposite of my prayer had been granted. I remember the enemy whispering that 'Aha! Where was this amazing God you're so crazy about when your home was burning down?'  'There's no God and if there's one He doesn't care about you'. 'Your God knows exactly the situation at your home and that your family is facing but He allowed this'. During this whole time I was faced with a choice either to declare that there was no God or if there was He was unfaithful. He didn't hear my prayer or if He did, He didn't care about answering because I had prayed the previous night for Him to switch the stove off so that the house would not burn.
"Because God has always been faithful in my life, because of what He has done even before my existence,  setting me apart and appointing me to declare His greatness to nations, denying His existence was not an option. I had to tell myself that I don't need to understand what is happening or why it is happening, I need to trust. and believe in my God as His words declares. I literally had to bombard myself with scriptures that spoke life and about life on my dead end situation of not knowing 'what now?'
"Choosing to trust God in the midst of a dead situation, of not knowing what to do or say was and still is the hardest thing to do because the physical was telling me that's impossible. I remember because of the intensity of the situation and my pain, the only words I could utter as prayer were 'please God, come back already'. I was at my weakest point where I understood God's answer to Paul's prayer 'My grace is sufficient for you, for my power is made perfect in weakness'. Where God was saying He will not come back because I have to become weak to carry my cross and because I am at my end but I needed to be weak so that His power may be made perfect and so that I will boast about the things that show my weakness.
Unconditional praise
"God may have not answered my prayer according to how I wanted Him to but that doesn't change who He is and the love He has for me. I may still be in a position of not having a home/house but I still have everything else. God has blessed me with so much. I personally see power in the way that God doesn't answer prayers because it brought me to a point of trusting Him when He has done nothing, a point of worshiping and giving Him praise for all that He is in my life, regardless of what prayers He's answered.
"My relationship with God has become so strong and so close since that day! His presence has become so tangible in my life, so much that I cannot comprehend a lot of the things He is about to do in my life. I believe that on the morning that my home burned down, I died. I died right along with everything that was in the house. And out of the ashes, God has raised me. That by dying and completely surrendering to His power I have allowed His Spirit to live in me, to minister to me — all day, every day. I look back today to that day and I stand in awe of what an amazing person God is and what an amazing cleaning and purifying He has done in my heart. I look at my situations and that situation and I testify that Asi couldn't have been able to survive that, that I personally could not have come out of that alive, but here I am. All of this testifies how immediately after I admitted my weakness and surrendered to Him, how His spirit began to live within me and I was fully alive. Asi didn't go through all of that, Asi is not going through anything — but the Spirit of God deposited in me is living through me to live through everything that concerns me.
"I stand here testifying of God's amazing power and love and nothing has yet changed. I am enjoying this season of my life knowing that God has me and my family in His heart and greater things are yet to happen.
"I have a God that cares. Jesus Christ is the solid rock that I have built my life on and that I am building my life on, and His Holy Spirit lives within me, all day, every day."