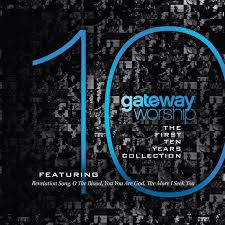 Great mix of anointed praise and worship
Music Review by Matthew Keef
GATEWAY WORSHIP — The First Ten Years Collection (CD/DVD Deluxe Edition)
As a worship ministry that began leading 200 people, Gateway Worship, located in Southlake Texas, now ministers to over 20 000 people each week through vibrant worship ministry, capturing the sound and songs of the local church Body. Their gift of worship to God resounds with the heart-cry of one of today's fastest growing congregations, and is being echoed in churches across the world.
This fantastic compilation CD of anointed, brilliant praise and worship, captures something of what they are doing where the Lord has positioned them. They have got something right with using 'big band' worship without the 'show' element to their music. The focus and object of worship is always Jesus and as one worships to this CD (DvD included with this album), 'your soul is satisfied as with the choicest of foods'. There is a great mix of songs — upbeat praise to intimate worship. 'Alabaster Jar' speaks for itself in the title – singing of bringing all we have and all we are, to the feet of Jesus. As far as big band music goes, they really do intimate worship well. Gateway have done well in 're-doing' some of the old hymns – adding modern day music arrangement and keeping some of the tradition. A real treat that keeps hymns alive in today's music.
By their own confession, Gateway are on a journey of discovering who God is and have only scratched the surface of this discovery. Well if this is the surface, and greater things are yet to come, then how great are the greater things!
Enjoy the journey with Gateway as they release through this album what they have thus far discovered