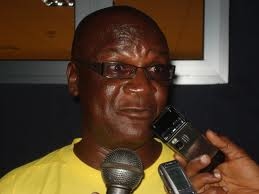 Originally published in GhanaWeb
The Vice President of the Ghana Football Association, Jordan Anagblah has given his life to Christ and he has become a born-again Christian.
Anagblah, who has been a confirmed atheist for most of his life, was struck down by serious illness and he told Accra-based radio station Top Radio that he was healed by God, hence his decision to give his life to Christ.
'God healed me and right now I am very strong. There is no power mightier than that of God. I was declared dead but after 72 hours God healed me. I therefore give thanks to God for healing me.'
Anagblah also told Top Radio that after many years of not believing in God, he is a firm believer in Christ after an encounter with a stranger on his sickbed in South Africa.
'For over 40 years I had never gone to church, but during my illness in my room, someone came into my room, prayed with me and told me that I am healed. She was an old lady whom I never saw again, but I have not felt pains from that day. That is why I am now a born again Christian.'
Anagblah declared his intention that he intends to combine his commitments in football with evangelising about Jesus Christ.
'Now that I am fully healed, I will combine my responsibilities in football with evangelizing about Christ. I will even build a church to glorify His name. I am not ashamed to tell the world about what He has done for me and that is why I have returned to Ghana.'
The GFA Vice President also told Top Radio that he intends to spread the word of God all over Ghana.
'I intend to go around the country spreading His word. Everyone should believe that God exists and so everyone should look up to Him because he can save and also destroy.'