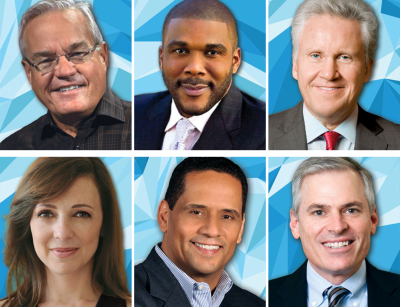 The Willow Creek Association has announced the speakers for the 2014 Global Leadership Summit which runs on August 14 and 15 in the United States and from October 10 in South Africa.
The consistently inspiring two-day leadership training event  which is held in 105 countries celebrates its 20th anniversary this year.
This year's speakers are:
BILL HYBELS: Founder and Senior Pastor, Willow Creek Community Church
TYLER PERRY: Filmmaker, Actor, Philanthropist
JEFFREY IMMELT: President and CEO, General Electric
BRYAN LORITTS: Founder and Lead Pastor, Fellowship Memphis
CARLY FIORINA: Former CEO of Hewlett-Packard; Chairman of Good 360
WILFREDO DE JESÚS: Senior Pastor, New Life Covenant Church; TIME's 100 Most Influential People 2013
JOSEPH GRENNY: Co-Founder, VitalSmarts; Social Scientist for Business Performance
PATRICK LENCIONI: Best-selling Business Author; Founder and President, The Table Group, Inc.
IVAN SATYAVRATA: Senior Pastor, Assembly of God Church, Kolkata, India
LOUIE GIGLIO: Pastor, Passion City Church; Founder of the Passion Movement
SUSAN CAIN: Best-selling Author; Viral TED Speaker on The Power of Introverts
DON FLOW: Chairman and CEO, Flow Companies Inc.
ERICA ARIEL FOX: New York Times Best-selling Author; President of Mobius Executive Leadership.
Provisional dates and venues for GLS 2014 in South Africa are:
*Please note dates and venues are subject to change
10 & 11 OCTOBER 2014
Johannesburg @ Venue to be confirmed
17 & 18 OCTOBER 2014
Durban @ Grace Family Church
Cape Town @ Common Ground Church (Rondebosch)
East London @ Christian Centre
Vanderbijlpark @ River Of Life Family Church
24 – 25 OCTOBER 2014
Port Elizabeth @ Harvest Christian Church
Cape Town @ AGS Goodwood (Friend of God)
Secunda @ Kruik
Durban @ Kloof Harvest Church
31 OCTOBER 2014 – 1 NOVEMBER 2014
Soweto @ Grace Bible Church
7 & 8 NOVEMBER 2014
Pretoria @ Venue to be confirmed
Information on how to register for GLS 2014 is available online.