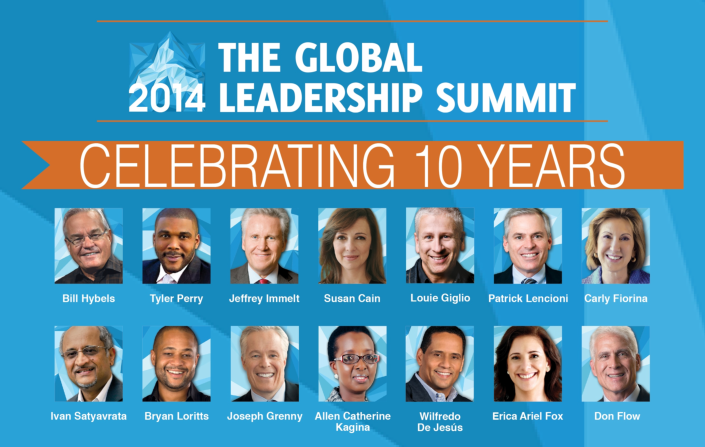 MEET THE SPEAKERS
The Willow Creek Association  2014 Global Leadership Summit will run in South Africa at 11 venues from October 10.
The consistently inspiring two-day leadership training event which is held in 105 countries celebrates its 20th anniversary this year — and its 10th anniversary in South Africa!
This year's speakers are:
BILL HYBELS: Founder and Senior Pastor, Willow Creek Community Church
TYLER PERRY: Filmmaker, Actor, Philanthropist
JEFFREY IMMELT: President and CEO, General Electric
BRYAN LORITTS: Founder and Lead Pastor, Fellowship Memphis
CARLY FIORINA: Former CEO of Hewlett-Packard; Chairman of Good 360
WILFREDO DE JESÚS: Senior Pastor, New Life Covenant Church; TIME's 100 Most Influential People 2013
JOSEPH GRENNY: Co-Founder, VitalSmarts; Social Scientist for Business Performance
PATRICK LENCIONI: Best-selling Business Author; Founder and President, The Table Group, Inc.
IVAN SATYAVRATA: Senior Pastor, Assembly of God Church, Kolkata, India
LOUIE GIGLIO: Pastor, Passion City Church; Founder of the Passion Movement
SUSAN CAIN: Best-selling Author; Viral TED Speaker on The Power of Introverts
DON FLOW: Chairman and CEO, Flow Companies Inc.
ALLEN CATHERINE KAGINA: Commissioner General, Uganda Revenue Authority.
ERICA ARIEL FOX: New York Times Best-selling Author; President of Mobius Executive Leadership.
In future weekly GLS 2014 Updates we will introduce each of the speakers individually and keep you updated about the latest GLS news and announcements.
          

– Weekly GLS 2014 Advertising Feature –