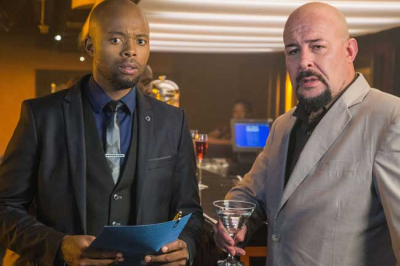 Movie Review by Andre Viljoen
NOTHING FOR MAHALA
Genre: Comedy
Directed by Rolie Nikiwe
Screenplay by: Darrel Bristow-Bovey
A Heartlines co-production 
Nothing For Mahala is a really funny, entertaining South African movie that opens in cinemas throughout South Africa on Friday. Go and see it!
If you have heard anything about this film so far, you have probably heard that it is part of a national campaign on values and money driven by media NGO, Heartlines. That is true and means that the movie is linked to a really worthwhile cause.
But forget the good cause for the moment. Because let's face it, if you do go to the cinema, you probably want to be entertained. Nothing For Mahala is a well-made, well-acted, entertaining family movie about the misadventures of an ambitious young real estate agent, Axe Gumede (Thapelo Mokoena) who desperately want to make his mark in Jozie — and that means chasing riches and status. Hendrik (Marius Weywers), a world-weary, grumpy old man who butts heads with Axe; Reneilwe (Mmbatho Montsho), the gracious manager of a retirement home where Axe is sentenced to do community service; Pule (Shoki Mokgapa), Axe's devious arch rival at work; and Mike (Jamie Bartlett), Axe's obnoxious, greedy boss, are some of the characters who keep the story moving.
The film also has some heart-tugging emotional moments as Axe and Hendrik are moved to try and redeem their future and past respectively.
While it is not at all a teachy-preachy movie, it is not difficult to see how Nothing For Mahala provides material for Bible Studies that Heartlines has produced and made available to churches as part of its campaign to get South Africans to talk about issues of money and materialism that are at the root of financial problems that are hurting our country. You can play a part in supporting that worthy cause by going to see the movie because its run at cinemas will be determined by its box office success, especially in the early stages.