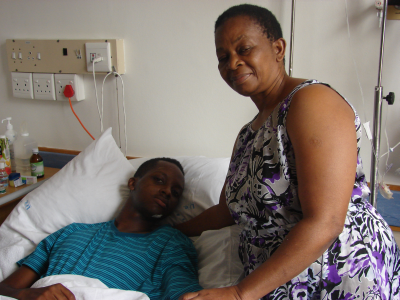 God has been at work, both healing her son and convicting her and her husband to get more involved in ministry to students, said the Zambian mother of a 21-year-old student who is recovering in hospital in Port Elizabeth after falling out of a third floor apartment window on February 14.
Wankunda Silengo, a financial planning student at Nelson Mandela Metropolitan University (NMMU) broke a femur and an ankle and injured his lungs when he fell to the street while trying to enter the window to his apartment late at night when he found he was locked out and did not have the key with him. It was a miracle that he did not injure his spine, said his mother, Edith Silengo, of Kabwe, Zambia, in an interview at St George's Hospital, Port Elizabeth yesterday.
Wankunda was initially treated in intensive care and doctors feared that it would be a long time before he would be able to talk again, said Edith. She said, however, that due to God's intervention, he was able to provide his law student brother, Wankumbu, his bank account pin number and his medical aid details, after he arrived at hospital from the accident scene. She said after not speaking for a while he was slowly recovering his speech. Now, just short of a month after his fall, he was going to be transferred to Aurora rehabilitation centre in Walmer Downs for physiotherapy.
Edith, who is an admin employee of mission organisation OM Africa in Zambia, said God has also been good to her an her husband, Mitulo, providing them with accommodation with a family in Summerstrand, during their time in Port Elizabeth to be with their injured son. Mitulo, who is a lecturer at Mulungushi University in Kabwe has returned to Zambia. Before he left he and Edith talked about the great voluntary work that their PE hosts do ministering to the spiritual and life needs of students.
She said she and her husband do some student ministry in Kabwe but were "awakened by God" to the need to get "much more involved with students" in their hometown.
She said that with Wankunda's imminent move to Aurora, she needs to find accommodation closer to Walmer Downs. Anybody who would like to offer accommodation to Edith can contact her at 083 512 5009 or call Fred van der Westhuizen, of OM in Port Elizabeth, at 081 384 2744.