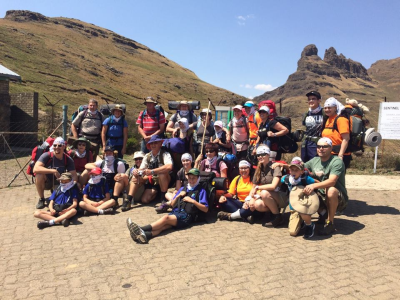 Originally published in Politics Web
The civil rights organisation AfriForum together with the actor Hykie Berg and Jacobsdal Primêre Skool embarked on Monday (October 5, 2015) on a two day hike in the Drakensberg to create awareness for the preservation of religion in schools.
The aim of this hike was to once again re-emphasise the importance of religion in schools. It also serves as a support movement for the six schools that have been taken to court as a result of their policies on religion and to whose legal fees AfriForum has to date contributed more than R2 million. These schools are Laerskool Randhart, Laerskool Garsfontein, Laerskool Baanbreker, Hoërskool Oudtshoorn, Langenhoven Gimnasium and Hoërskool Linden.
Jacobsdal Primêre Skool set out to take their seven Jakkies values to the top of Mont-aux-Sources, while AfriForum planned to erect a flag in support of the matter. The school challenges other schools to launch their own projects to show the importance of religion and especially Christianity in their schools.
More info about the hike can be found on AfriForum's web and Facebook page, as well as on the "Hou God in skole" Facebook page.
The partners in hosting the hike include among others AfriForum, Hope in Action, attooh!, Real Women for God and Random Moments of Faith.
"It is wonderful that schools like Jacobsdal Primêre Skool take these initiatives and that we can use the hike to once again create awareness for the matter," says Carien Bloem, project coordinator for Education at AfriForum.
Kallie Kriel, CEO of AfriForum, also mentions that schools' policies on religion do not compel anyone to partake in school religion. It is therefore a pity that there are attempts to prevent people who do want to practice religion from doing so.
Anyone who wants to support the project by contributing R10 to the legal expenses can SMS "BERG" and their name to 38313.
The case is expected to go before the High Court some time next year.