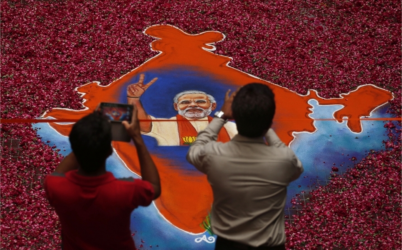 Originally published in Christian Today
After the BJP's historic election victory this week, Christians in India have mixed feelings about the future and how the country's new leaders will impact on freedom of religion.
The last week has been a massive turnaround for the once struggling opposition party that suffered defeats in the last two elections.
Taking them to victory was the charismatic Narendra Modi, who International Christian Concern reports has feigned ignorance about past Hindu nationalist attacks on minorities.
There are serious concerns among Christians, with one pastor, Ronald John, telling ICC the "persecution of Christians will increase under the BJP-led government".
"Christians already are gripped with fear and concern over the election results. Hindu nationalist groups will take advantage of the situation and use it to attack churches and members of the Christian community," he said.
CA Daniel, president of the National Congress of Indian Christians, made similar comments to ICC, saying Christians are "not safe" under BJP rule.
"There will be stringent rules and legislation restricting Christians and the exercise of the freedom of faith," he said.
Dr John Dayal, secretary general of the All India Christian Council, recalled the scale of devastation perpetrated by Hindu radical mobs when they went on the rampage in Kandhamal, Odisha, and Mangalore, Karnataka, in 2007 and 2008 killing over 120 Christians and Dalits. Over 300 churches and more than 6,000 Christian homes were destroyed in the attacks.
"We will have to find out how we can tell the new government [about] our problems and fears, our expectations of a strong secular government, and hold it accountable for its misdeeds whenever it falters in giving [Christians] security and the freedom of faith," he told ICC.
ICC's regional manager William Stark said Christians in India were already experiencing restrictions on the free exercise of their faith.
"Forced conversion laws manipulated to attack Christian pastors and a climate of impunity for perpetrators of violence against Christians has been a hallmark of BJP rule at the state level," he said.
"This must not be allowed to take hold in India's national government. Positive action must be taken to ensure the rights of all of India's citizens, including Christians, are respected and enforced."