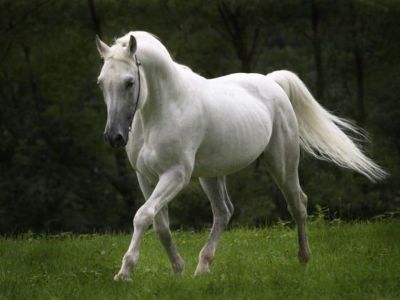 A white mare named Molly advertised on Gumtree seemed to meet the requirements of Christian bagpiper, Piperjames, for a white steed for use in spreading the Gospel in and around Cape Town.
The initial email correspondence between prospective buyer and seller was encouraging.
"Molly is the old plantation style walking horse that is stout built with a pretty head and still silky smooth in the gait!" said seller Kuh in the introduction to a long description of the gentle and willing animal he was forced to part with.
Piperjames responded: "I have to be honest with you right from the start Kuh, and say that I am looking for a horse that I can 'saunter' along with and ride gently upon, in and about Cape Town to help me spread the Gospel of the Kingdom of God."
Further down in his email he explained: "The Lord has now for many months laid it upon my heart to find a white horse; 'faithful' and 'true' to Jesus, such can be seen in Revelations and the first seal opened and as being a reminder to all that the only Church is that of Christ himself; hence a white horse. This is the reason for my enquiry; this is the reason I am looking for a horse.to help me spread the Gospel of the Kingdom of God"
The piper's email concludes: "For now though you may have a few things to think over, such as do you wish for your horse to be a vessel in Gods great plan and which may in all ways become a famous horse in her own right, for the attention that will be bestowed upon the mount that I will ride for the Lord, will become recognized the world over (a good thing as the Glory will be all that of Gods!) If you have any questions please let me know.
"May the Lord bless you abundantly and may He watch over you always."
He signed off with his full alter ego, "Piperjames, War Piper for Jesus Christ and the Mighty Men of South Africa".
The seller, now using his full name, "Muffikuh", said he was based in Port Elizabeth and proposed sending the horse to Cape Town via a pet transport service. He requested delivery particulars from his buyer.
"Once you provide me with all these information i will go get she registered for delivery. But you will be responsible for the delivery charges which is going to cost you R1750 and as for the money for molly i will only expect the money once you have confirmed her healthy."
Piperjames proposed visiting the seller in PE after attending the Karoo Mighty Men Conference in Middelburg.
Kuh's response was surprising. He said: "
You touch my heart with your word and prove your self serious to get a horse. but going to buy one through the internet will be so difficult coz Scamming do exist.
"I am a Cameroon and 22years old. I am a good chorister in a Baptist church in the city of Victoria now known as Limbe.
I do not have that horse you see (molly). but i know were to get a good horse for you in Cameroon or you can get it from France, but not on the internet mr. Piper James.Please forgive me for trying to attempt to scam you. How i wish i could be like you moving from place to place prishing the word of God.
"Thanks for understanding me and aviod internet scams. Greetings to your family — Kuh."
Piperjames responded by thanking his would-be scammer for coming clean and advising him to ask Jesus for forgiveness.
"May God bless you and may He watch over you always.
"I will always be here on this email address should you ever need advice and or guidance in the name of Jesus in this mad crazy world," he concluded.
Kuh promised to heed the piper's advice.
In an email to Gateway News today, Piperjames confirmed that after a year of searching for the right steed he is still in the market for a horse.
"The White Horse is significant, Faithful and true to Jesus Christ that has been laid upon my heart now for over a year; it will come to fruition I know," he said.
"If any reader wishes to bless me with a horse it must be no smaller than 15.5 to 16 plus hands high and white, preferably a gelding, strong and fine looking and good in traffic," he quipped.