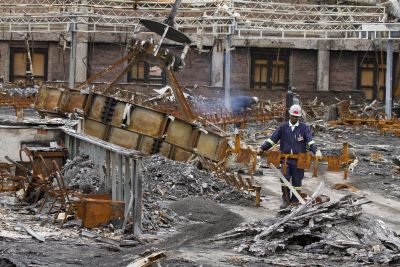 The clean-up of the Durban Christian Centre Jesus Dome has begun.
The iconic Jesus Dome was destroyed by fire on the evening of June 7 this year. A full investigation into the cause of the blaze indicated that the fire had been started by an electrical fault.
The clean-up of the debris could only begin once the forensic investigation had been completed.
The clean-up, which started this week (September 23), will take about six weeks to complete. As soon has the area is cleared engineers will then be able to test the remaining structure to see whether it is strong enough and safe to be included in the re-building of the church.
Preliminary sketches of the new church have been made, but nothing can be finalised until the engineers file their report. Only then will final plans be drawn up and submitted to the Durban City authorities.
It is anticipated that these plans will only be submitted early next year and work on re-building  the Jesus Dome will hopefully begin towards the middle of 2017.