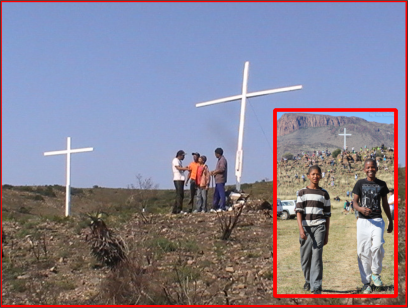 When friends who were attending the Karoo Mighty Men Conference (KMMC) in April sent him photos of the landmark white cross on a koppie overlooking the campsite, Rodney Jooste knew exactly what he had to do.
Jooste said God had given him a vision to put His name on a hilltop where he spent much time interceding on behalf of his neighbourhood. When he saw the KMMC cross photos he realised that he was supposed to erect crosses on his regular prayer spot between the Northern Areas suburbs of Booysens Park and Jacksonville.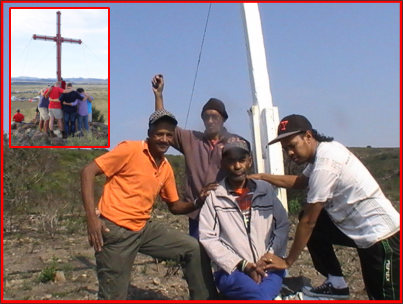 Since erecting the two wooden crosses in May the spot which commands a panoramic view of the Northern Areas and the distant city and harbour has become a favourite prayer venue for the community, he said. Indeed, while Jooste and two Christian friends were at the crosses to take photographs for Gateway News they were approached twice by local people who asked them to pray for them. Jooste says he and various prayer groups pray regularly at the crosses, bringing many community needs to the throne of God. He said there have been no more accidents on the busy stretch of Standford Road below the crosses since they began praying there. There have also been many testimonies of answered prayer; for instance there was a man who feared losing his job after he got into a fight at work but after they prayed about the situation he not only kept his job but was promoted.
Jooste said he had planned to erect three crosses but ran out of material after putting up two. The crosses, which respectively are about 3m and 5m in height, are made of scrap purlins. Jooste, who is employed as a caretaker at a neighbourhood church, said he would ideally like to build three crosses out of more substantial material. He said some people have suggested that they should build more crosses at other points along the long range of hills that runs the length of the sprawling Northern Areas. He said that he would welcome donations of suitable cross building material and can be contacted at 078 693 0546,