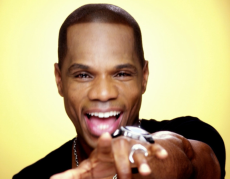 Multi-award winning US Gospel singer, Kirk Franklin, will head up an impressive line-up of talent at the first International Gospel BLESTIVAL in Durban on December 7. Franklin will also perform in Johannesburg on December 6.
"The church and Gospel Music lovers will for the first time gather at Moses Mabhida Stadium to witness this spectacular yet Holy Spirit filled event on December 7," says the World Gospel PowerHouse (WGPH) who are staging the event.
"We had to make sure that we bring the best in Gospel Music for this event. Kirk franklin has both the message, the energy for the stadium and those beautiful sing alongs like "my life is in your hands' which the South African public loves. Kirk will be joined by the best of SA Gospel Music like Rebecca Malope, Benjamin Dube, Sfiso Ncwane, Ntokozo Mbambo, Dumi Mkokstad and many more" said Zama Mkhize, the event manager.
"True to our commitment in spreading the good news, this will be more than just a concert, we will have preachers giving short messages throughout the day. They will include Pastor Clive Gopal, Bishop Mpendulo Nkambule, Pastor Collin laFoy and many others," says WPGH in a media release.
According to Zanele LaMbokazi Nkambule, president of  WGPH, "this is essentially a mega Gospel festival, but we choose to call it a BLESTIVAL because we know everyone who will be at Mabhida will be blessed. This is one event not to be missed by any Christian or Gospel Music lover. We appreciate the number of churches that are booking in groups, ensuring that they will sit together on the day".
Franklin will also perform at Rhema Bible church in Johannesburg on December 6. Tickets for this event are also available at Computicket and Shoprite.
The World Gospel PowerHouse has in the past hosted Pastor Shirley Ceaser, Dr Juanita Bynum, and recently (May 2013), Pastor Donnie McCklurkin and Cece Winans. They are also the producers of the SABC Crown Gospel Music Awards.
More information on the Durban event is available by calling the WGPH on 031 303 3520 or info@wgph.co.za. Tickets are available at Computicket.