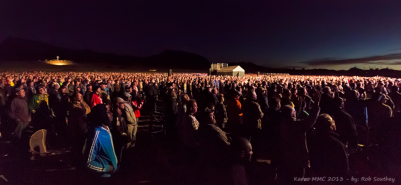 See picture gallery below for more Mighty Men images
As the Karoo dust settles on Renosterfontein farm near Middelburg where thousands of men gathered for the third annual Karoo Mighty Men Conference last weekend, the KMMC committee have reason to thank God for an awesome and impactful event.
In a step of faith this year the committe decided to invite men to attend the event for free, as they believed God was leading them to model the KMMC on Biblical festivals of old. Another feature of this year's preparation was 40 days of sunrise-to-sunset prayer on Renosterfontein as well as intensive intercession throughout the KMMC weekend.
The images in the photo gallery below capture some of the joy and wonder of the weekend. A more comprehensive CD of photos by Rob Southey and David Stott is included with a DVD pack that features the four sessions led by Dawie Spies, Afrika Mhlophe, Johnny Louw and Angus Buchan. The media packs can be ordered online at http://klub.wildestem.co.za/dvd.html.
[EasyGallery id='karoommc2013′]
Gateway News asked two of the commitee members to comment on the weekend.
Dave Turner, who headed up the intercession campaign, said: "The weekend was beyond all expectations. The Bok-en-Biltong evening was so powerful – impacting a wide spectrum of the Middelburg community. The ladies loved the Ladies Breakfast, and both these events were fully booked out – not usually a problem in Middelburg.
"From the registrations for the conference we were expecting more than last year, but didn't realise it would be more than double. This had the vendors on the hop trying to keep up, while Middelburg ran out of cooldrinks and bottled water. This was also as a result of the near perfect weather conditions – hot days, mild nights and very little wind.
"The speakers were all brilliant – four people close to me each mentioned a different one as being the most meaningful to them. For me, Afrika's message will go down as being significant in the future of our country, especially as it was delivered on Freedom Day. The testimony and inspiration of Paul Wright of the Bikers Church was so gripping that his minutes ended too soon for everyone.
"One of the outstanding features was the teamwork, enthusiasm and involvement of so many people from outside of the Committee.  There is such a growing team of people who are now part of the Karoo MMC team and their participation is an inspiration to us all. For example, the guys involved with the translation services willingly offered to do this difficult job, but it was their enjoyment of it and enthusiasm that amazed me."
Ruthi van der Merwe, who managed the marketing portfolio, said: "Once again God has done something awesome in our midst. Everything was perfect. From the testimonies that are coming in we can see once again that we serve a God who cares about relationships. Firstly a relationship between you and God, and then with the people around us. The relationship between father and son; husband and wife; family ties; and friends! We see how relationships that seemed without hope were restored in the blink of an eye. Miracles!
"We experience God as a God of appointments. Appointments that are planned with attention to minute details. The testimonies about these appointments take our breath away. Therefore I am once more able to say with certainty that God is a God who is interested in every detail of my life.  A God who takes me by the hand every step of the way and demonstrates his care of every aspect of my life.
"After such a weekend I realise anew that I am indeed called to be loved, to belong and to become! It is a great, great privilege to be a member of a team that gets to organise such an event as the KMMC."