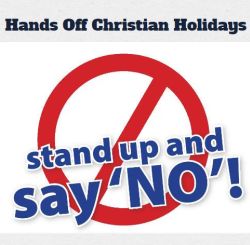 The deadline for submissions to the South African Law Reform Commission (SALRC) regarding what many Christians perceive as a threat to remove Good Friday and Christmas public holidays is next Tuesday (June 30, 2015).
The deadline was originally May 31 but the SALRC subsequently extended it to June 30.
In an email to Gateway News today the SALRC acknowledges that it has recommended the review of legislation dealing with the two Christian holidays with a view to addressing "an element of unequal treatment" of other faiths. But is says it has not recommended "the removal of any religious holiday".
In an emailed reply to questions from Gateway News today, SALRC spokersperson, Maureen Moloi, says: "The South African Law Reform Commission (SALRC) would like to place on record that it has not proposed or recommended the removal of Easter and Christmas as public holidays. At/On page 56 of the Discussion Paper 133 the Public Holidays Act 36 of 1994 is discussed and the SALRC  recommends to the Department of Home Affairs that since there is an element of unequal treatment, the section should be reviewed. It is also suggested that either these holidays be reviewed or that equal weight be given to religious holidays of other faiths. There is therefore, no recommendation in the discussion paper for the removal of any religious holiday. The closing date for submissions on Discussion Paper 133 was 31 May 2015 and has been extended to 30 June 2015."
Confirming Moloi's outline of the SALRC recommendation on Discussion Paper 133, SALRC Commissioner Irvin Lawrence, says in an email that the commission "does not support any particular position on the matter and the recommendations made are informed by one of our responsibilities  which is [to] identify potentially unequal and/or discriminatory provisions in legislation".
Whatever the SALRC's technically correct position on the Christian public holidays, it is clear that many Christians believe there is an attempt to remove them. It is also this reporter's view that the SALRC's above arguments that it is not targeting Easter and Christmas would not alleviate the concerns of most Christians.
Asked about the number and breakdown of submissions received to date, Moloi says the SALRC "has received quite a lot of responses and submissions" and that the submissions are "all-inclusive". Details about the submissions will be disclosed in a report that will be compiled after considering the content of all the submissions, she says.
Christians who still want to make submissions to the SALRC by the Tuesday (June 30) deadline, can submit written comment and representations to the SALRC's by e-mail to gmoloi@justice.gov.za. Or they can sign the petition at http://handsoffchristianholidays.yolasite.com/petition.php. Guidelines on submissions can be found at https://gatewaynews.co.za/hands-off-good-friday-and-christmas-act-now/.