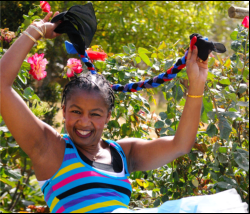 Vikki Cole, a DJ on East London's Christian community radio station, Link FM, launched her debut album, Soli Deo Gloria, on Saturday (November 16).
The album tells the story of the journey of her heart since she gave her life to Jesus in May 1983. All but one of the 10 tracks were written and composed by Vikki, who says that evangelism is at the centre of her music.
She says the album is the fulfilment of a dream that had its beginnings in the early 1980s when she started writing songs. Her CD was recorded at Sound And Motion Studios in Cape Town and produced by Shy, founder and acting director of Africa Voices Trust.
Vikki's prayer is that all who listen to her songs will connect with God. Her music can be sampled and purchased on her website www.Vikkicole-solideogloria.Com which also has an itunes link to the album.
Uganda born and bred Vikki lives in East London with her British husband Philip and their four children.