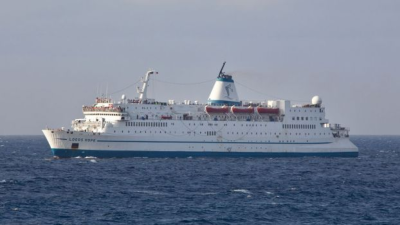 OM Ships International's famous floating book fair ship Logos Hope is scheduled to make its first visit to South Africa from March 2016 until July 2016.
The ship, which carries more than 5 000 affordable Christian and educational titles aboard will, arrive in Durban on March 16 and will visit Richards Bay, East London, Port Elizabeth and Cape Town.
The Logos Hope, which was once a passenger car ferry, is double the size of Doulos, which was the last OM book fair ship to visit SA — having called in 2005 and 2002. At the time of its retirement the Doulos was the world's oldest active, ocean-going passenger ship.
Since 1970 OM's ship ministry has operated four different ships and welcomed more than 44 million people on board. As at the beginning of May, 2015, Logos Hope had welcomed more than 4.3 million visitors and visited 84 ports in 50 countries. About 400 people from 50 different nations serve on the ship and when in port crew engage in ministry on board, in local churches and on humanitarian outreaches in partnership with local Christians. Through the ship ministry churches have been planted and missions launched in some areas that OM ships have visited, millions have been touched by the love of Christ and tens of thousands have come to faith in Him.
In an interview during a previous visit to SA, OM Ships CEO Peter Nicoll said: "The thing that really excites me is the unusual opportunities for ministry that we have as a ship. We get into places where no one else really has a chance of getting into – in terms of ministry. We get people coming to the ship that would never go to any kind of church or religious meeting, but they are open to coming to the ship. It's a unique platform for ministry that God uses, to reach people who otherwise would not be reached," he said.
More information about OM Ships can be found on the website: http://www.omships.org/