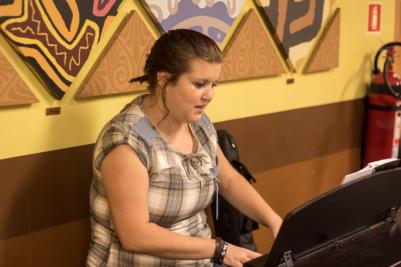 When the world's largest floating book fair Logos Hope pays her maiden visit to Port Elizabeth in two weeks time, nobody will be more excited than Jemma Coetzee.
"I can't wait to let my own people see and taste for themselves the transformation power we have onboard," says Coetzee, 20, of Port Elizabeth, who is one of  400 volunteers from more than 55 nations who have left behind families, jobs, and the security of their homes to serve on the famous OM mission ship.
"It was overwhelming at the beginning to leave home so far away, but it turned out to be a blessing in just a few weeks," said  Coetzee, who joined the ship in February 2016 and works in the Hotel Service team.
The Logos Hope, is on her first visit to South Africa. She arrived in Durban on March 16, then called at Richards Bay and is currently in East London where she will be open to the public until May 30. She will be in PE from June 9 to 20 and in Cape Town from June 24 to July 11.
Jemma says waking up at 6am to clean the ship was challenging but humbling at first. But through encouragement and friendship from the international team, she learned to appreciate different work and understand the importance of working in the background. Her parents were worried about her before she joined, but now they are happy to see how much she has grown.
"My Mom is surprised when she hears that I'm scrubbing the bathroom floor. I would not even pick up my own hair on the floor before I joined the ship."
Her favorite corner onboard is the International Café. "I love to play the piano there and meet people from around the world through music."
The crew offers a unique example of unity in cultural diversity. Some come with qualifications to fill specific roles such as engineering officers, plumbers, carpenters, bookkeepers and cooks among others; many young people, come with no professional qualifications except a willingness to serve. Although they have different backgrounds, the crewmembers are united in serving the purpose of bringing hope, knowledge and literature wherever they go.
More info on the ship's upcoming visit to PE can be found here: https://www.facebook.com/events/1128931643806426/permalink/1205944459438477/