[notice]Movie reviews by Andre Viljoen[/notice]
I recently received four Christian movie DVDs from Brettian Productions.  As I watched these well-crafted, entertaining films it struck me that there has indeed been a welcome, upwards trend in Christian movie making. Many more films are being made for Christian viewers, and the production standard of these movies is starting to match that of comparable secular movies. In the three years since Fireproof shocked the entertainment world by becoming the biggest grossing independent film in 2008, some faith-based film makers and distributors have come of age. Indeed, Courageous, the recently released (in the US) sequel to Fireproof, appears on track to set records of its own. This is a seismic shift from a previous era when Christians were just so blessed to view a movie that honoured Jesus that a weak script and indifferent acting were forgiven. Of course, it makes sense that film makers who are in tune with the Holy Spirit should lead in creativity, and so let's hope that Christian films will continue to blossom and indeed begin to set the standard for the world.
Here are my brief reviews of the four movies I viewed over the past week. I have listed them in order of preference, beginning with my favourite.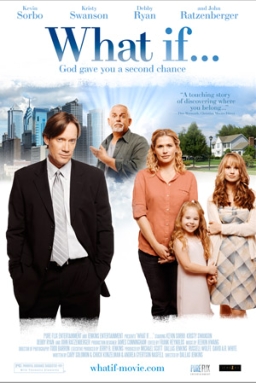 WHAT IF…?
Genre: Romantic drama
What If is a gem. It is well-made, witty, has an ingenious storyline, is entertaining and has a powerful message about the consequences of the choices we make in life — especially when they concern God's calling. The main character in the movie, high-flying  investment banker Kevin Walker (Ben Sorbo) is given a chance to see how his life might have panned out if he had followed an earlier inclination to become a preacher. The script is brilliant, with excellent dialogue and a story that enthralls right until the final twist. The actors were well cast and there is great chemistry between Walker and the family that he might have had if he had chosen differently.  The comic relief character, angel and tow truck driver (John Ratzenberger) gives a truly masterful performance. What If is highly recommended viewing for the whole family, that leaves you feeling good, motivated to make Godly decisions and encouraged by the Lord's amazing grace. Hat's off to the director, Dallas Jenkins!
CHRISTMAS WITH A CAPITAL C
Genre: Family Holiday
 
With the Christmas holidays  approaching and the debate about the meaning of the season that inevitably  surfaces at this time, Christmas With A Capital C is a topical movie. The debate takes on an especially topical angle in this movie when political correctness threatens to outlaw the way that small town Trapper Falls has been celebrating Christmas for decades. Town Mayor Dan Reed (Ted McGinley) and old high school rival and atheist Mitch Bright (Daniel Baldwin) lock horns when Mitch tries to change things soon after returning home after 20 years. Emotions soar as the town is divided during the ensuing conflict. Dan's wife Kristen (Nancy Stafford) and their daughters help restore unity as they launch a Christmas With a Capital C campaign that challenges Christians to stop demanding their rights and start demonstrating His unconditional love. It is a warm, funny and touching movie that treats the Christmas debate well while always delivering on entertainment. The stunning Alaskan winter scenery is a bonus!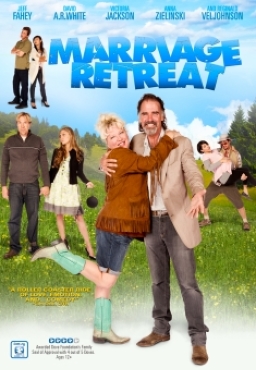 MARRIAGE RETREAT
Genre: Comedy/Drama
This movie takes viewers on a journey that is full of humorous moments yet deals with a serious matter — saving marriages. Three couples, each with their own marital problems, decide to attend a mountain marriage retreat after hearing a promotion at their church. The rustic facilities at the retreat do not measure up to their luxury resort expectations and the men and women are placed into separate dorms. It is clear that the men and women have very different perspectives on their marriage difficulties and conflicting agendas for the weekend. But they are all caught off guard by the unorthodox methods of the retreat leaders, Dr Craig Sullivan (Jeff Fahey) and his wife Katrina (Victoria Jackson). The acting in the movie is of a high standard, but Fahey, as the burned-out,  blunt, "seen-it-all" counselor, is outstanding in his role. His blonde, cheerful, whiny-voiced wife seems an unlikely partner but to the actors' credit they make their relationship credible. The solution to the struggling couples' problems is found at the foot of the cross. While the resolving of issues may seem on the fast side compared with real life, the film does offer some practical, Biblical ideas for reviving marriages. This movie could certainly be used as a discussion aid in a Bible study or counseling context.
HEAVEN IS WAITING
Genre: Romantic Comedy
Heaven Is Waiting is quite engaging as a romantic comedy that explores the theme of starting again after a devastating setback. Wealthy widower Ned Stevens (Curt Dousset) is still struggling with life years after the death of his wife (Melanie Nelson). To make matters worse, his beloved only daughter, Liz (Brittany Peltier),  brings home a serious boyfriend, David (Kirby Heyborne) threatening dad's plans of taking care of his "little girl". Ned takes a stubborn and irrational dislike to David, who is in fact near perfect. Meanwhile Ned is conflicted by his feelings for an attractive jogging acquaintance, Carol (Michelle Money), who clearly is very keen on him. But Ned cannot let go of the past despite the sound advice he gets from his dead wife with whom he has many conversations. And that, for me is where the movie falls short in its positioning as a Christian film. Perhaps the scenes with Ned and his dead wife are intended to be happening in his mind only. But it certainly looks like he really is talking to a ghost and that his inability to let go is keeping her from going to heaven. Despite references to church and faith-filled songs in the musical score, this unbiblical theme suggests that the movie was made with an eye on the Christian market rather than out of a true Christian understanding. While the other movies reviewed on this page come from US Christian production company Pure Flix, Heaven Is Waiting is distributed by Bridgestone Multimedia Group.