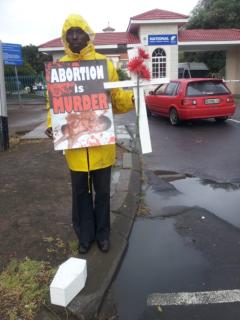 Marie Stopes Clinic in Bloemfontein says pro-lifers who stage protests outside the abortion clinic are unlawfully harrassing and intimidating clinic personnel and clients. They have warned pro-life doctor and protest co-ordinator, Faan Oosthuizen that they will take legal action unless he agrees, in writing, to conduct the protests peacefully and lawfully.
In a written response to a letter from Marie Stopes' attorneys, Philip Rosenthal, of Christian View Network, says, on behalf of Oosthuizen, that the allegations of unlawful protest action are unsubstantiated. Rosenthal says that the use of coffins, taking of photographs and videos, and displaying of posters that refer to "killing babies", are common practice in pro-life protests in South Africa and around the world. He disputes the clinic's view that these protest actions amount to unlawful intimidation, harrassment, preventing access to the clinic and denying people's constitutional rights.
In a letter to Oosthuizen, Nothnagel Attorneys Conveyancers, say that the protests started on October 18 and have become increasingly intimidatory, requiring Marie Stopes to hire security personnel for the safety of its staff and clients as from November 7. The letter says that unless Oosthuizen provides a written undertaking to conduct protests "in a peaceful and unarmed manner" in accordance with the law and the constitution, they may launch an urgent application to the Free State High Court for interdictory relief and that Oosthuizen would be liable for legal costs.
In his response, Rosenthal says the attorneys should provide facts to substantiate their allegations of unlawful protest action. He also says that Marie Stopes derives most of its income from the killing of innocent unborn babies and therefore any legal fees they pay to the atorneys is likely to be from 'blood money'.
"Further in defending their actions of killing babies and seeking to intimidate protesters, your firm is effectively sharing their guilt with Marie Stopes," Rosenthal says.
He also refers to a telephone conversation in which he says the clinic's legal firm pointed out that abortion was legal in South Africa. He says pro-lifers are entitled to protest against unjust laws just as anti-apartheid campaigners campaigned against the injustice of apartheid laws.
"The pro-life movement intends to continue protesting until the unjust abortion law is reversed," he says.
The legal threats from Marie Stopes are not the first that Oosthuizen has faced in his campaigning against the evil of abortion. He was fired by the Free State National Hospital in February 2009 for participating in protest action and campaigns against the termination of pregnancies by the Free State Health Department as far back as 2006. Subsequently the Public Servants Association of SA ruled that his dismissal was unfair and he was reinstated.
In a recent post on the Free Stare Pro-Life Network Facebook Page, Oosthuizen spells out a plan of action for protests outside Marie Stopes Clinic and the National Hospital.
"Every God-fearing believer in Bloemfontein is now requested and encouraged do their Christian duty and to book an hour or two per month or as much time and as often as possible to go and protest against abortion," he writes.
In another impassioned Facebook post he says that in general South African Christians fail to defend the lives of the least — unborn babies. "This is a sign of very serious lovelessness, spiritual illness, blindness, selfishness and egocentricity," he says.