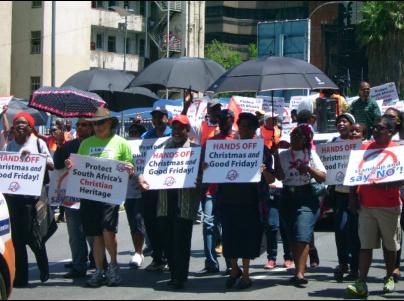 African Christian Democratic Party President Rev Kenneth Meshoe will be on SAfm tomorrow morning (Tuesday, November 13) to discuss the reviewing of Christian public holidays by the Commission for the Promotion and Protection of the Rights of the Cultural, Religious and Linguistic Communities, says the ACDP in a press statement released today.
The interview will be broadcast between 09:00 and 10:00, on SAfm (105.1 FM), or it can be streamed on http://tunein.com/radio/SAFM-1051-s6404/. Listers will be able to phone in and question Meshoe who has previously called on all churches and Christian NGOs to be vigilant and to ensure that they reject any attempts by any minority group to remove Christmas and Good Friday from the South African calendar
On Saturday the ACDP led a protest march by about 100 Christians in Constitution Hill, Johannesburg. The protesters handed over a memorandum to Home Affairs Minister Naledi Pandor opposing a proposal to remove Good Friday and Christmas as public holidays on the grounds that they discriminated against other religious groups.
According to media reports, Meshoe said the ACDP did not believe the two holidays discriminated against any religion. "According to Statistics SA, Christians make up 79.5% of the country's population," he said. He said the existence of these two holidays on the calendar showed the majority's standing.
Pandor told the demonstrators  she had not  yet received such  an  enquiry from the commission and urged them to "prepare for a jolly festive season".