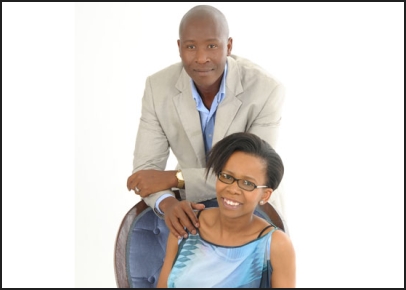 Writing about his experience at his first Mighty Men Conference last year, Port Elizabeth Pastor Afrika Mhlophe said he was struck that the event was all about "lives changed by God's power and not just a mass camping out of men".
Little did he dream as he shared his experience with Gateway News readers last May, that he would be back at the Karoo MMC again this year — not just as one of the thousands of men attendees — but as one of four invited speakers.
Mhlophe said that when he received an email, officially inviting him to speak at this year's KMMC in April he was "shocked" and "could feel the presence of God". He sought God's will in prayer before accepting the invitation.
He will share the speakers' platform with Mighty Men founder, Angus Buchan, colourful evangelist Johnny Louw, who was a popular speaker at last year's event, and Dawie Spies of Manne Van Die Woord. An innovation at this year's KMMC — simultaneous translation between Afrikaans and English via an FM signal picked up on cellphones — will make it easier for everybody to follow the speakers. The KMMC 2013 is from Friday, April 26 to Sunday, April 28, on the farm Renosterfontein, near Middelburg. Registration for the event is open on the KMMC website.
From the heart
Mhlophe said he noted that the style of speakers at the KMMC he attended was to speak from the heart rather than to deliver prepared sermons. He expects to adopt that approach.
Currently he is working hard to finish a book that he started in July last year. It is called "Christianity And The Veneration Of The Dead" and is aimed at Christians who ignorantly engage in ancestral worship, believing that it is endorsed by Scripture. In his book, which he hopes will be ready before the KMMC, he proves theologically that ancestral worship is misguided.
Mhlophe was orphaned at the age of 13 and says he was brought up by relatives who abused him and misappropriated the inheritance that his mother had left him.
"It is only after my mother died in 1989 that I tasted what it feels like to go to bed hungry. I have experienced many other tragedies in my life but the Lord has seen me through all of them," he said.
He is married to Lindelwa, a quantity surveyor and project manager who runs her own firm. They have a son of 3 and a 7-months-old daughter.
Mhlophe pastors Good News Community Church which is the same church at which he committed his life to the Lord in 1996, the year in which he also matriculated at Kwamagxaki High School. His ministry regularly takes him to Estonia, Sweden and Nigeria.
He has been an executive member of Transformation Christian Network (TCN) since 2006. He has been a presenter on Radio Kingfisher on and off for more than 10 years, and is currently involved with Gateway News as chairman of the board and as a columnist.
Mhlophe, who is also involved in various social endeavours, says: "My desire is to see God's kingdom permeate every sphere of society. I am burdened by the fact that Christians are shying away from involving themselves in current and topical issues. "