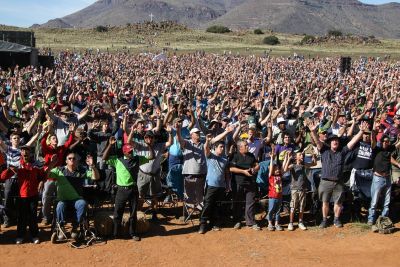 Although it is still difficult to put into words what an incredible weekend the Karoo Mighty Men Conference 2015 was, with more than a thousand people giving their hearts to Jesus, many baptised in water, hundreds baptised in the Holy Spirit, and thousands of ordinary Christians inspired and empowered to do extraordinary things for God, it is true to say the event was life changing.
"We had prayed for a God-event that would transform all of our lives, and God certainly did that," says Dave Turner, who coordinated the KMMC 40 Days of Prayer Intercession team and is part of the conference organising committee.
"A major shift"
"A major shift occurred in the heavenly realm and in our lives — our personal, family, community, city and national lives will reverberate with the consequences thereof into eternity," says Turner.
Jannie Moolman, coordinator of the event and owner of the farm on which the conference is hosted says one of the high-points of the event was having Angus Buchan back at KMMC, to lead the Sunday morning family session, because he is the Mighty Men spiritual father and founder, who listens closely to the voice of God and extends His word clearly, without compromise.
"Oom Angus' commitment to do God's will, no matter the price, is a great inspiration. He is dedicated to winning souls for God's Kingdom. The fire in his heart always inspires us.
"He attended KMMC 2015 even though he had to squeeze the visit into a very busy schedule, having to leave the next day to a youth gathering at Newlands in Cape Town and fly to the US the day after for another crusade.
"However, he enjoyed being back in the Karoo in fellowship with mighty men again, challenging us to lead the nation by turning back to God, imitating Christ and assuming our rightful roles as prophets, priests and kings in our homes, because the family is the basic building block of the nation," says Moolman.
All speakers emphasised the importance for men, when they return home after KMMC 2015, to be the husbands, fathers, family members and neighbours that God intended them to be and to apply what they had learned over the weekend.
The success of this core message is reflected in the many acknowledgments received of marriages, and relationships being healed.
Reconciliation
Danie Kruger, one of the KMMC intercessors, is a living testimony of how successful the emphasis on reconciliation is at the event.
Kruger took his son, Daniel, with him to the conference for the first time.
"He is 22 now and my wife describes him as our 'wild horse'," says Kruger.
"As I prayed every day with the KMMC intercession team for the event so did I pray that my son would be touched by God and invite the Holy Spirit into his life," he adds.
Kruger says on the Friday night of KMMC at around 10pm he was just about to go to bed when Daniel came into the tent and asked him to walk with him to the white cross on the hill.
"I did it and when we got there my son laid hands on me and prayed for me. What an awesome feeling if you are concerned about your own child's spiritual wellbeing and God touches him so mightily.
"There is a fire burning inside this young man."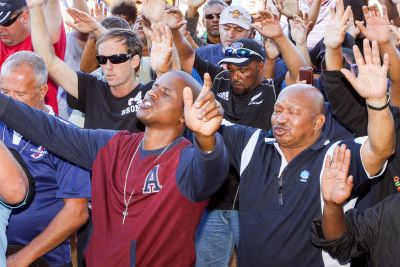 Kruger says when they drove home they first dropped-off a friend at his home in PE and after leaving they were approached by a beggar at a traffic light.
"I signalled the guy that I had nothing to give him but as I started pulling away my son stopped me, jumped out and gave the guy one of the Xhosa bibles he got at the prayer tent.
When we got back to our farm my farm worker saw us pulling in and came up from his house to greet us.
"Before my son even greeted his mother he went with another Xhosa Bible to my worker and started praying for him. My farm worker was in tears and could not stop praising the Lord for a long time.
"When I look at the transformation in my child all the hard work and thousands of prayers all were worth it.
"Bless you, oom Angus and all men and women that made this possible. Amen," says Danie.
Massive growth
Moolman says while the focus is not on numbers, but rather on souls saved, it is encouraging that there were 60% more people than last year with 10 400 vehicles leaving after Sunday's service, which translates to between 30 000 and 35 000 people.
Turner says that although they do not know the impact that intercession had in making KMMC 2015 the weekend event that it was, the feedback from all directions is that people could sense that every aspect of the conference was soaked in a foundation of prayer.
"Uncle Angus asked me to specially convey his thanks and commendation to each one of the intercession team.
"He said he knows very clearly when there is an open heaven, and that there certainly was an open heaven as he preached."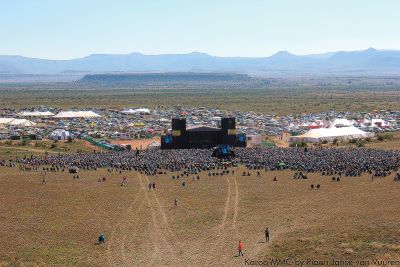 Moolman confirms Turner's testimony: "When Angus arrived on Sunday morning he said that he could feel in his spirit how thoroughly the ground for KMMC had been prepared in prayer.
Holy ground
"This was again confirmed by a number of testimonies from visitors to KMMC 2015 who said that as soon as they set foot on the KMMC site they felt they were walking on holy ground.
"The extent of the intercession is evident in the fact that even though the conference is finished the intercession continues for the souls who were saved and the relationships reconciled at the conference, for which we are grateful to the hundreds of ntercession team members from all over the country," says Moolman.
The KMMC intercession team numbered 400 intercessors country-wide who did the intercessor training and then the 40 Days of Prayer for the event. Quite a number of these intercessors were forwarding Turner's daily intercession updates to their own intercessor groups, so the impact multiplied further.
"We had 56 people who were part of the KMMC 24/7 Intercession group, who prayed non-stop for 21 days (504 hours, 168 three hour shifts)," says Turner.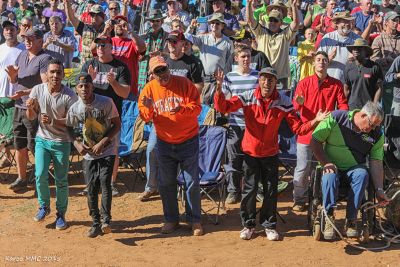 "The coordination and communication via whatsapp provided such a synergy that we all grew so much in prayer, in faith and in expectation.
"Furthermore, the intercession team that prayed over the course of the weekend had a huge impact on how problems and crises that arose were handled, which was confirmed by Riaan Janse Van Vuuren, safety officer at KMMC," says Turner.
He explains that although KMMC is over and the prayer actions completed, intercession is continuing to counter and overcome the backlash faced by many immediately after such a weekend as Satan tries to reverse what God has done.
Turner says intercessors are praying for the following:
* That all those that attended KMMC will obey and put into practice what God imparted into their lives — that all who attended the conference will be not only hearers, but doers of the Word.
* That every person that attended KMMC, as a living stone, will be built into a family of believers somewhere to be discipled to maturity, and that church leaders will be diligent about ensuring this net is spread wide so that none fall through the cracks.
That men will mature in their relationships at every level – with wives, children, families, churches, businesses/work, and communities — that they would have abundant grace to grow these relationships to the next level.
That as the men begin to see things from God's vantage point, He will birth His will in ideas and vision to them; that the men will not run ahead of God and that they would do God's work, in His WAY and in His TIME.
Overwhelming gratitude
Moolman says the overwhelming feeling among KMMC organising committee members after the close of KMMC 2015 is one of gratitude to be part of the event and to be able to hold it in the Karoo. 
He points out that although the organising committee is only made-up of 12 core members there are actually hundreds of extended members from all over the country who volunteer to help in many different capacities, without whom the event would not be as successful or run as smoothly.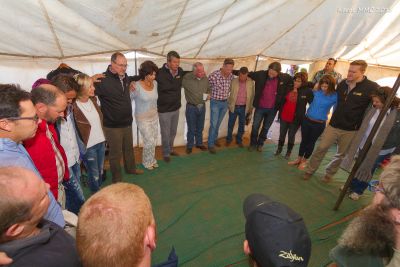 "While the KMMC family home is here in the Karoo the members of our family live all over the country, in Port Elizabeth, East London, Bloemfontein, Cape Town, Johannesburg and every town in between for whom we have a deep debt of gratitude. 
"Oom Angus echoed the organising committee's sentiment when he asked me after the conference: 'Son, in your wildest dreams, did you ever think this was possible' and as a committee the manner in which KMMC has grown and developed relationships with people all over the country has certainly exceeded our 'wildest dreams'. 
"However, we know that with God all things are possible, but that in our own efforts this would have been impossible, it is only by the grace of God that people's lives are transformed at KMMC and that the event has grown to such an extent, even though many people experience it as being in the middle of nowhere.
"We serve an awesome God," says Moolman.