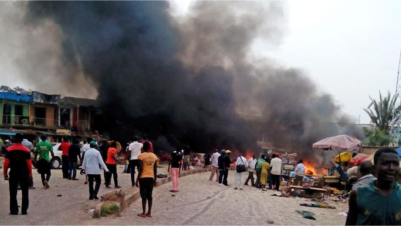 Call for prayer for Christian community in Nigeria
Compiled by reports from Fox News , Worthy News/Reuters, Open Doors SA
At least 118 people were killed and dozens more were injured in back-to-back car bomb blasts in the crowded business district of the central Nigerian city of Jos on Tuesday afternoon (May 20, 2014) in an attack that bears the hallmarks of the Islamic sect Boko Haram, responsible for the abduction of nearly 300 schoolgirls in Chibok in April.
The Tuesday blasts in Jos and a suicide car bomb attack that killed five people in the Christian district of the northern city of Kano on Sunday evening, took place after regional and Western leaders at a weekend summit in Paris pledged "total war" on Boko Haram which is waging an increasingly bloody campaign for an Islamic state under strict Shariah law in a nation whose 170 million people are 50% Christian and 50% Muslim.
The attacks in Jos occurred south of the terror group's northern stronghold, fuelling speculation that they could have been aimed at igniting rivalries between Christians and Muslims in the city, located on a volatile fault line dividing Nigeria's mainly Muslim north from the predominantly Christian south.
Rescue workers would dig through the blast area rubble today (Wednesday, May 21) to search for more victims of the blasts in a bustling marketplace and bus station, an emergency official said.
Coordinator Mohammed Abdulsalam of the National Emergency Management Agency said they were waiting for earthmovers to arrive to do the heavy work before they can begin the grisly task.
The search for survivors was halted on Tuesday night by raging fires ignited in buildings by the massive blasts, that were heard kilometres away. Firefighters fought through the night to douse the blazes that collapsed buildings, Abdulsalam told The Associated Press in a telephone interview.
"We expect to find more bodies in the rubble," Abdulsalam said.
President Goodluck Jonathan indicated that he blames the Boko Haram terrorist network for Tuesday's attack, assuring Nigerians their government "remains fully committed to winning the war against terror."
He announced heightened measures to tackle the insurgents, including a multinational force around Lake Chad, comprising a battalion each from Chad, Niger, Cameroon and Nigeria.
Outrage continues to grow at home and abroad over his government's failure to curb the 5-year-old Islamic uprising. The insurgency has become ever-deadlier, with more than 2 000 people killed this year compared to an estimated 3 600 between 2010 and 2013.
For most of the past two years, the insurgency has been largely confined to Nigeria's remote northeast bordering Cameroon, Chad and Niger, where militants move easily across borders, but it appears once again to be spreading outward.
Gerrit Coetzee, CEO of Open Doors South Africa has urged believers to stand with the Christian community in Nigeria through prayer, "By prayer for our brothers and sisters in Nigeria, we are holding up their arms in faith so this battle against darkness can be won."
Nigeria is listed at #14 on this year's Open Doors World Watch List.