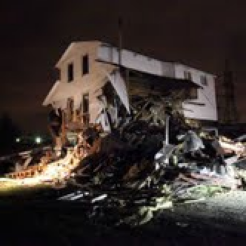 Originally published in Worthy Christian News
A congregation of evangelical Christians in Russia's capital Moscow were without a church building Tuesday, September 11, after workers with bulldozers and other equipment destroyed their Holy Trinity Pentecostal Church complex, protected by local police, witnesses said.
Photo's obtained by Worthy News showed a scene that local Christians said was reminiscent of the Soviet-era when security forces backed by the feared secret service KGB were cracking down on Christian groups.
A cross was laying smashed between garbage and construction materials. Christians tried to save church properties, Bibles, songbooks.
"Right now officials destroyed our church building," said Pastor Vasili Romanyuk in a statement obtained by Worthy News following the September 6 incident.
He awoke in the early hours of Thursday when, he said, bulldozers arrived under cover of darkness to destroy the complex.
It came as another setback for believers of the church, which was established in 1979 by Serafim Marin, a Pentecostal who reportedly spent 18 years in Soviet labor camps for his Christian faith.
The church gained registration with Soviet authorities as an autonomous Pentecostal community in the late 1970s. However city authorities apparently forced it out of its first building in 1995.
An elderly man can be seen on one of the chairs left between the rubble.
The replacement "temporary" church was bulldozed last week, according to Christians familiar with the situation.
Christian officials and rights activists say the incident is part of a "wider pattern" introduced under Russian leader Vladimir Putin to relocate non-Russian Orthodox churches from centre city areas.
As 'compensation' it provides with undeveloped land in some remote suburb with strict conditions including that the church develops the property within some specified time period, Christians said.
However when non-Orthodox churches submit permit requests to develop or improve the property, the requests are reportedly denied or delayed.
Eventually authorities seek to repossess the land "for failure to fulfill the development condition," added a friend of the pastor, Frank Wright, who is president and chief executive officer of U.S.-based National Religious Broadcasters (NRB) association.
"Religious persecution takes many forms. In Moscow…a kind of selective persecution reared its ugly head with the destruction — in the middle of the night — of the Holy Trinity Pentecostal Church," Wright told Worthy News.
"It is hard to imagine the government doing this to a Russian Orthodox church."
Wright first met Pastor Romanyuk while attending the Association of Christian Broadcasters Russia conference, two years ago.
He suggested that the latest destruction of the church shows Russia is once again experiencing an era with an "Orwellian result", referring to George Orwell, whose books included 'Animal Farm' about the inner workings of Communism.
Yet, a spokesman of Moscow's Eastern Administrative District denied wrongdoing. Press secretary Andrei Ivanov said in published remarks "There was a court decision" to destroy the church.
He did not know which court had taken the decision or when and said he would look into it, reported Forum 18, a human rights watchdog closely following the case.
Asked whether the authorities would have bulldozed a Russian Orthodox Church in this way, Ivanov reportedly said he did not know.