[notice]Pieter Pohl, founder of Innovation Films and marketing manager of CMD Entertainment Africa, sheds some light on the latest movies.[/notice]
GOD'S NOT DEAD 2 – NOW SHOWING IN CINESMAS ACROSS SOUTH AFRICA!
Please visit www.godsnotdeadthemovie.co.za for more info.
Gateway News reviews:
Don't miss God's Not Dead 2: It will inspire you
God's Not Dead 2: Movie and Book Review
FAITH AFFIRMING MOVIES NOW AVAILABLE ON DVD
HOPE BRIDGE
MOVIE TRAILER : https://youtu.be/Di5gRmQvk4c
BUY DVD NOW: http://www.cumbooks.co.za/hope-bridge-dvd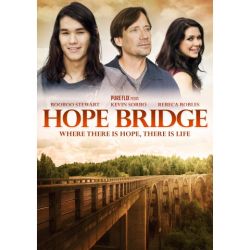 Synopsis:
Following the father's suicide, Jackson (BooBoo Stewart) sets out to piece together the events leading up to his death. With the help of a church pastor Eric (Kevin Sorbo), and joined by a spunky pizza girl, Sophie (Rebeca Robles) who has a past of her own, Jackson begins a journey that may just yield more questions that it answers. What does it mean to be happy? What do we do with pain? Are we doomed to repeat our past?
Dove Review:
"Hope Bridge" clearly shows that things in life can change, and change for the better. The bridge is the place where Jackson's father jumped to his death, but it becomes a place of healing by movie's end.
Jackson and a fellow high school student collide near a school locker, causing books to crash to the floor. Jackson apologises but when the other student absent-mindedly says, "Don't kill yourself over it," Jackson flies off the handle and begins pummeling the other student.
This results in a five-day suspension from school and Jackson has to see a psychologist, Dr. Eric (Kevin Sorbo), before he can return.
At a peer group meeting he has to attend for those affected by suicide, he meets Sophie (Rebecca Robles), a beautiful young lady who at one time almost committed suicide herself. She gives Jackson a ride home and they become friends. She helps Jackson as he hunts down clues to what his father was doing before he took his life. This leads to a reunion with a relative he has never met.
Ultimately Jackson learns that his father had to deal with great pain that probably contributed to the decision he made to end his life. When Jackson goes to the bridge where his father died, he must make his own choice.
This film does a good job bringing attention to the topic of suicide and illustrating that with proper support there is hope for those who struggle with the idea of ending their own lives. It also illustrates that those left behind can eventually move forward.
The character Sophie tells Jackson that believing God could carry the weight of her burdens saw her through. Boo Boo Stewart does a terrific job as Jackson, and the rest of the cast—Rebecca Robles as Sophie, Kevin Sorbo as Dr. Eric and Sam Sorbo as Robin—are all excellent in their respective roles. This movie tells an important story, and could prove helpful for families that have dealt with this issue. – www.dove.org
SUNDAY BLOCKBUSTER
(Sun 7 August '16: MNet 20:05 & MNet Movies Premiere 20:30)
THE MARTIAN
Movie Trailer: https://youtu.be/ej3ioOneTy8
PG13VNL – NOT RECOMMENDED FOR FAMILY VIEWING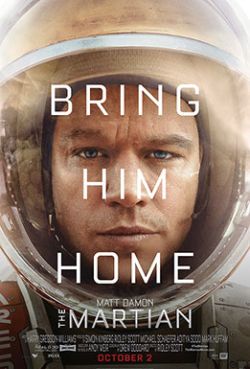 Synopsis:
During a manned mission to Mars, astronaut Mark Watney is presumed dead after a fierce storm and left behind by his crew. But Watney has survived and finds himself stranded and alone on the hostile planet. With only meagre supplies, he must draw upon his ingenuity, wit and spirit to subsist and find a way to signal to Earth that he is alive.
Millions of kilometres away, NASA and a team of international scientists work tirelessly to bring "the Martian" home, while his crewmates concurrently plot a daring, if not impossible, rescue mission. As these stories of incredible bravery unfold, the world comes together to root for Watney's safe return.
The Martian is based on a best-selling novel.
Dove Review:
The Martian is big on tense moments and special effects. It is a major movie, running 141 minutes, and ultimately is about Mark Watney's (Matt Damon) experiences in surviving on Mars until a rescue mission reaches him.
A wicked sandstorm leads to the quick evacuation of the NASA team on Mars, but Watney is left behind, presumed dead. Actually, he is injured and has to do minor surgery on himself. He also has to figure out how to survive with a dwindling food supply but, fortunately, he is a botanist. He manages to grow vegetables, mainly potatoes, in Mars' soil.
The film focuses on his life on Mars, working in his makeshift garden, traveling in a motor vehicle to find a rendezvous spot and plot an escape, and dealing with the cold.
Eventually, his team back on Earth learns he has survived. Watney's crew is five months into their return home when they finally learn about his survival.
As Watney continues to deal with hardship, such as his garden being destroyed and his food supply being cut drastically, his team must make a decision as to how to rescue him. The final decision will be risky but is the best option for him to be brought home alive.
The film contains plenty of anxious and tense moments and the mystery of whether or not Watney will get home, but regrettably it contains strong language, a few bloody scenes, and rear male nudity. – www.dove.org