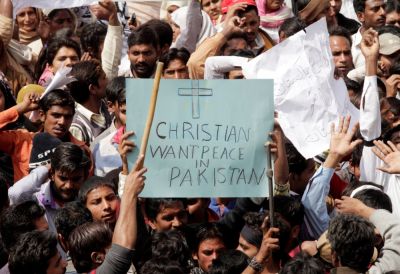 Originally published in The Christian Post
Over 100 Christians have been arrested for the riots in Pakistan last week following a Taliban suicide attack on two churches that killed 17 people. Police forces have been arresting people who were part of the crowd that killed and burned two people suspected to be terrorists.
"We first established identity of the suspects through TV footages, still cameras and other relevant sources before laying hand on them," a senior investigation officer said, according to The Hindu, confirming that more than 100 Christian protesters have been arrested.
Two suicide bomb blasts hit the Christ Church and Catholic Church of Youhanabad Christian Colony on March 15, killing 17 people. A Pakistani Taliban splinter group claimed responsibility for the attack, which left another 80 people injured.
Thousands of Christians rioted on the streets of Lahore following the attack, demanding better protection from the government. Reports said that two suspected terrorists were beaten to death and burned during the riots. The men were apparently in custody and were being shifted to a vehicle when the protesters got to them, beat them severely, tied them with a rope and set them on fire.
Fides News Agency reported that two Christians, Sohail Johnason and Yousaf Kamran, have been identified by the police as being responsible for the lynching. The two men were reportedly recorded on video shot with mobile phones by eyewitnesses to the beating.