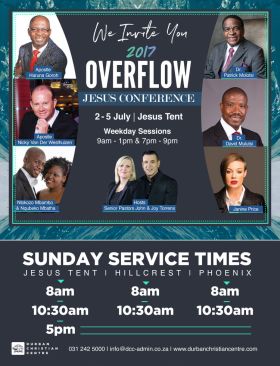 Durban Christian Centre's Overflow Jesus Conference begins on Sunday (July 2) finishing on Wednesday July 5 in the Jesus Tent, in Mayville Durban.
The featured speakers are Apostle Harunah Goroh, formerly from Nigeria but who now has a thriving church in Windhoek, Namibia; Pastor Nick van der Westhuizen, from Johannesburg, Dr David Mulutsi from Polokwane and Dr Patrick Molotsi, from Tembisa, Johannesburg.
Also participating in the conference are guest artists Janine Price and Ntokozo Mbambo and Nqubeko Mbathe
"I do believe that God is about to do great things in our city and the nation. And this conference is geared to equip believers to be ready for the reaping of a great harvest of souls for God. With my wife Joy we are believing for signs, wonders and miracles," said senior Pastor John Torrens.
Besides evening services there will be inspiring ministry sessions on Monday, Tuesday and Wednesday mornings from 9 am.