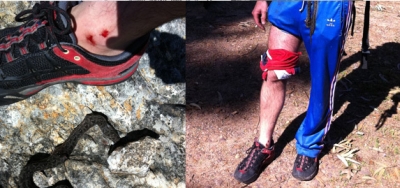 [notice]Pastor Yannis Acavalos of Shofar Christian Church, Franschhoek was bitten by a venemous snake while spending time with God on a mountain. Hours away from his car he called out to God for help: this is his testimony.[/notice]
Living in Franschhoek, I often go up into the mountains to spend time with God, away from the distractions of everyday life. I sometimes find that the Lord uses nature and circumstances to communicate with me out there.
On Friday, 16 September 2011 I went out into the wilderness again, longing to connect intimately with Jesus. I took my dog, Max, with me, parked the car at the top of Mont Rochelle and hiked for a few hours toward Piedakop, one of the bigger peaks behind our little town. I prayed and worshipped and spent time in the Word, having awesome fellowship with Him.
A few hours later it was time to head back. It was a long way down the mountain to the car, but it was mostly downhill. I put my earphones on, selected a sermon to listen to on my iPhone and started to run down the mountain toward home. About half an hour into the run, I felt a sharp pain in my ankle – like being stabbed with a shard of glass. I looked down and to my complete and utter horror I saw a snake slithering off the hiking path toward the rocks.
The first thought that rushed into my head was "I'm two hours from my car and I've just been bitten by a snake! LORD God HELP ME!"
In an instant, my world turned into super slow motion, the natural light turned brighter, a glowing golden yellow. Then there was an immediate presence that came up from behind me and surrounded me. My hair stood on end. I was covered with gooseflesh and tears came to my eyes, tears of incredible overwhelming peace and protection.
The rest happened in a matter of seconds, but because time had slowed down it felt much longer. God Himself took over, and a voice as clear as the words you are reading came to me with clear instructions:
"SAVE THE DOG!" Max was running some 20m behind me down the path toward the undulating snake. I shouted for Max and yanked him out of harm's way.
"KILL THE SNAKE!" I grabbed a rock and threw it at the snake's middle, immobilising it immediately. The second rock was the fatal blow to its head. I picked up another rock and beat it on the head a few times to make sure it was dead.
"REMOVE YOUR SHOE AND SOCK." As soon as I obeyed, two spots of blood were revealed, where the snake's fangs had penetrated the inside of my right ankle, just above the top of my trainers. Unbeknown to me, there was excess poison on the sock that needed to be removed from the open fang slits on my skin.
"WASH THE WOUND." Again I obeyed, washing away the surplus poison from the wound with water out of my water bottle.
Without truly realising what I was doing, I found my hand over the bite – praying for healing (or could it be for my life). This was no regular prayer but a fierce declaration of spiritual battle that welled from deep in my spirit. So fierce, direct and powerful was my prayer I had looked around to see where the noise was coming from, and finally grasped it was from me.
·    I AM HEALED IN THE NAME OF JESUS CHRIST!
·    IT IS YOUR BLOOD LORD THAT COVERS ME!
·    GREATER IS HE THAT IS IN ME, THAN HE WHO IS IN THE WORLD!
·    IT IS THE BLOOD OF JESUS THAT PUMPS THROUGH MY VEINS!
·    THIS SNAKE VENOM SHALL HAVE NO EFFECT IN MY BODY!
·    YOU ARE MY HEALER LORD JESUS!
·    I CLAIM MY HEALING BY YOUR STRIPES.
·    YOU HAVE GIVEN ME THE AUTHORITY TO TRAMPLE ON SERPENTS AND SCORPIONS AND ALL
      THE POWER OF THE ENEMY AND NOTHING BY ANY MEANS SHALL HARM ME.
I was out of cellphone range, so I gathered my thoughts, picked up the dead snake and started to make my way down the mountain. After some time I gained cellphone reception, called my wife Kat, told her what had happened and sent her a photo of the snake to be identified.
It's a long two-hour walk back to the car, but along each step I continued declaring scripture over myself and claiming my healing in the name of Christ. I got an SMS from Kat, telling me that the local snake expert in Franschhoek had identified the snake as a berg adder and I would not die but I would need to get to a hospital.
I told her that God had healed me, and that He was constantly reassuring me that I was going to be OK.
Finally I got down to my car, loaded the dog and the dead snake and drove home. Kat was waiting for me, but I refused to go to hospital although I agreed to visit our local doctor, who has been primed for my arrival. Stepping into her surgery, she did some medical tests and asked me how long ago I had been bitten. It had been roughly two and a half hours since the bite.
This is what she told me: Within an hour of being bitten, my vision should have been impaired and my eyelids should have drooped. My sense of taste and smell should have been lost. I should have had paralysis of the eye, tongue and mouth muscles, which usually persists for three to four days. The area around the bite should have been swollen and I should have been in excruciating pain.
Well, that is what the world says happens to someone who gets bitten by a berg adder. But my Jesus says:
I give you the authority to trample on serpents and scorpions, and over all the power of the enemy, and nothing shall by any means hurt you. -Luke 10:19
To the doctor's amazement, I had no pain and there were no signs of any venom in my body. A month later, I still have two fang scars on my ankle, a telling reminder of this incredible miracle, just in case I thought it was all a dream!