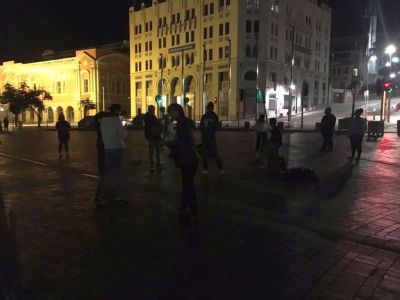 Worshippers from all over the city of Port Elizabeth are gathering every night to "Stand" on behalf of the city in the name of Jesus.
Pastor Anton Hutton catalysed the "Stand" worship initiative following a gathering of Burn 24-7 leaders earlier this month as he and some friends began to gather nightly to pray and worship in Vuyisile Mini Square in front of the City Hall.
This week saw the official invitation go out to Christ-followers across the city to come and join in from 9.30pm to 10,30pm every Monday to Friday, until such a time as the leaders feel it is time to bring the meetings to an end. There will most certainly be gatherings every night this week.
The worship initiative outside the city hall is taking place at a time of high political tension in the city ahead of a council meeting next week in which opposition groups are aiming to take over from the current DA-led coalition.
Anton says the call to "Stand" is simply a call to sing over the city, not to ask anything, but just to sing. "Stand" is derived from Ezekiel 22:30 — I looked for someone among them who would build up the wall and stand before me in the gap on behalf of the land so I would not have to destroy it, but I found no one.
What began as one or two worshippers singing over Port Elizabeth two weeks ago has become a group averaging 20 to30 people. Last night (Tuesday), Executive Mayor Athol Trollip and his wife responded to the call to "Stand" on behalf of the city by worshipping with the group for a while.
"We believe that praise is one of the greatest weapons that we have," says Anton.
He draws attention to the biblical account of King Jehoshaphat going into battle with the praise singers — those "appointed…to sing to the Lord and to praise him for the splendour of his holiness" — leading the charge, and the victory that came through their worship (2 Chronicles 20:20-26).
He also expressed his belief that declaring the goodness of God from a place symbolic of power and authority like City Hall results in the demolishing of strongholds and the breaking of chains holding Port Elizabeth.
"Christ is the hope for the city," says Anton, "no political party, no leader, but Christ is the hope. We're not looking to man; we're looking to the author and perfecter of our faith."
Everyone is invited to come and "Stand" on behalf of Port Elizabeth — musician or not. Join Anton and others in declaring the goodness of God over the city. For more information, contact Anton on 084 467 5548.