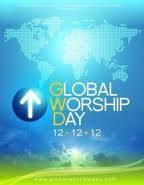 On 12.12.12 worshipers around the world will unite in the second, annual Global Day of Worship — a 24 hour wave of worship across the globe from 7pm to 8pm in each of 24 time zones.
The GDW was launched last year on 11.11.11. Once again GDW events will be streamed live on the GDW website. The focus of GDW is not on petitioning God but on thanking Him and declaring His goodness and greatness.
GDW events in South Africa include 24 hours of non-stop worship in Port Elizabeth, hosted at the Word Of Faith Christian Centre on on William Moffett Expressway from 8pm on Tuesday, December 11 until Wednesday, December 12; and all-day worship at Breakthru Life Church in Kroton North Street, Weltevreden Park,  Johannesburg on December 12.
Calling PE worship leaders
Worship leaders in Port Elizabeth please note there are still a number of one hour worship team slots that must be filled. Please contact Ellenor Lotter at 082 497 5746 or ellenor1@telkomsa.net.
Entrance to all GDW events is free and worshipers are encouraged to come at any time to be part of this global worship event.
If your region is holding a GDW event on 12.12.12 please comment below and post the venue and time details.
View PE 24 hours worship promo: