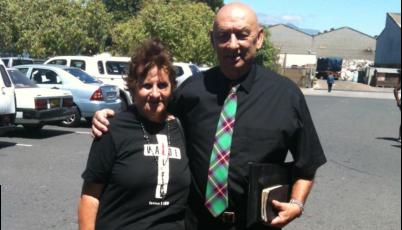 The Cape Town High Court today (Friday, March 7, 2014) upheld an appeal by Christian pro-life activist Peter Throp against a conviction in February last year for damaging property by placing pro-life stickers over illegal abortion stickers. The full written judgement can be viewed here. Prior to his conviction, the City of Cape Town hounded and threatened Throp for months, and the Mayor of Cape Town, Patricia de Lille, ignored his appeal for them to rather join him in protecting vulnerable women from the illegal abortionists. In June a Cape Town magistrate sentenced him to a fine of R5 000 or 3 months imprisonment suspended for 5 years. On Tuesday this week the City of Cape Town issued Throp with another summons in connection with his pro-life activities After today's court ruling, Throp issued the following statement:
It is regrettable that we have arrived at this status quo on this issue, when with a little bit of compassion and thought (input) by the Mayor, the City could have avoided my prosecution.
The Mayor could have requested that the NPA suspend or decline the prosecution.  It is a clear case of those in authority and trusted with the well-being of the public, could not or refused to see the 'elephant in the room'.   This whole issue is sad and certainly makes me ask if  they are serious about protecting women from abuse?    On the evening of my judgement and sentencing, I was in tears watching the story of Anna Booysen's abuse being revealed on our TV News channels. 
One has to look at what has been achieved by my placing of the 'Value Life' sticker on top of the illegal abortion notices.   New contractors have been appointed, checks and balances have been put in place and possible irregularities in the returns have been addressed.
The cleaning of the environment has improved as the illegal, back street abortion notices, where they do get the opportunity to appear, can now be counted in their 10's and 20's and not in their thousands as before.   And for two years prior to the 'Value Life' campaign the City was telling me that they could do nothing.   (I would suggest that prior to the city's resent positive action there was +/- half a million back street abortion notice's displayed at any given time.)  It is a good feeling to know that the authorities can be held accountable and that there has been a tremendous public awareness created, as many of the public are now tearing down these illegal abortion advertising posters on the lamp posts. 
When one considers that at my sentencing, the prosecution called for leniency, yet the presiding Magistrate took it upon herself to sentence me to the maximum prison term of  3 months for this first time offence.  One has to ask if there was 'outside' influence in the judgement?  Because this action of 'Value Life' would have affected the whole country and would have called on all local authorities to take the action that the City of Cape Town were call[ed] on to take, which has had the positive result in preventing abuse against women.
The City has the power to decline to prosecute and I will cite two incidents.
The first is that when the Metro Police arrested a street musician recently, they broke his guitar.  Yet the NPA declined to prosecute the Metro Police members responsible, stating  "there was no intent to do damage to property by Metro Police members".  Well equally, by placing my 'Value Life' stickers on the surface of illegal notices, there was also no intent to do damage to city property as my stickers never came into contact with the surface of any city property.
Recently somebody has seen the need to try to protect life in Bay Beach Avenue, Sunset Beach, Milnerton, by placing posters under a lawful ' stop' sign. ( see attached photo [at bottom of page])  Whilst this is noble and most likely justifiable, they have taken action, most likely out of frustration, it nevertheless is illegal under Council By-laws. 
This exercise that I was persecuted for, was not about abortion, it was about the abuse to women.  The official figure is that at least 300 women a year die from going to illegal back street abortionists for an abortion. 
Good people in society, particularly Christians have got to be prepared to hold elected officials accountable when they fail to provide for the safety of the environment that we reside in.   If necessary Christians must be prepared to lose their freedom ([be] jailed) for standing up for truth and our 'Bill of Rights'.  In this particular case the end result has justified my actions as the authorities are now working to give us a clean environment.
Would I do it again ?   Most certainly YES! 
All human beings have basic, natural rights – the most fundamental of these is the right to life.   The right to life belongs not only to the strong and the powerful.   It belongs to all human beings regardless of age, dependency, or ability.   The government exist to protect our natural rights and has a duty to protect the weak from the strong.   We all benefit when the law respects the dignity and value of every human life.   Government should protect the right to life because it is the foundation of all other liberties.
Abortion is irreversible, it is bad for a women's health, it does their dignity no good and it cruelly kills an innocent baby.   
I am very grateful to Adv. Darryl Cooke and Gunston's Attorneys for their compassion and input. 
All glory to Almighty God. 
God Bless.
Peter Throp 'Value Life"