Pretoria business, political and church leaders packed the City of Tshwane council chamber on Monday night at a lively prayer session that formed part of the Africa Leadership Summit which links African Christian leaders from different sectors of society with Israel.
It was an amazing time of fellowship and prayer and the turnout exceeded expectations by far as invitations were only rolled out a week before the event, said Pastor Olusegun Olanipekun, leader of the Institute for Christian Leadership Development (ICLD). Every region and sector of the city was well represented, he said.
Resonated
"When I shared the vision of the Africa Leadership Summit with the Speaker [Katlego Mathebe] whom I met recently through a mutual friend, it resonated in her spirit and she agreed we can hold the Pretoria prayer session in the council chamber," he said. Mathebe attended and addressed the event.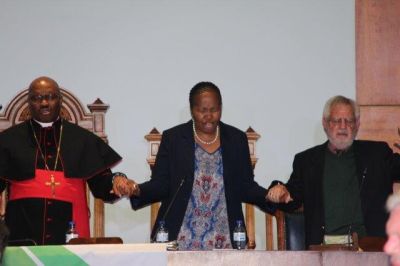 He said the focus of the summit was to connect African cities and sectors with Israel in order for Africa to benefit maximally from the Abrahamic Covenant and blessings made available through the death and resurrection of Jesus Christ. It was also creating a highway of business between Israel and Africa and was part of a build-up to a conference held every two years in Jerusalem. Southern African Summit sessions were held in Lesotho, Harare, Pretoria and Soweto.
Attendees at the council chamber prayer session included Benjamin Berger, a Messianic Jew from Church of the Lamb on Mount Zion, Jerusalem; ward councillors; top muncicipal executives including chairperson Dikeledi Selowa; Gauteng chairman of Cope Tom Mofokeng; and ministers from various city pastors' fraternals.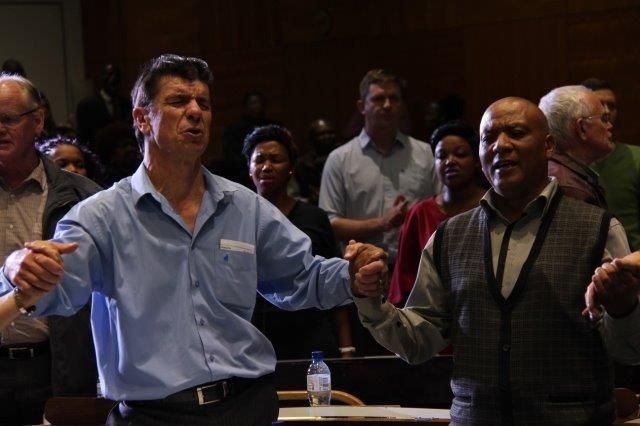 Prophetic prayer proclamations
"It seems to be the first meeting of its nature in the city chamber. It is historic because of the nature of the gathering and the prophetic prayer proclamations made by spiritual legislators inside the city chamber," said Olanipekun.
"In my last discussion with the speaker, riding on the wave of this, the plan is to take it to different regions of the municipality and eventually to other parts of South Africa," he said.
Asked about the timing of the event, days after the national day of prayer in Bloemfontein and the #50Days2BlessSouthAfrica prayer campaign he said: "I believe it is not a coincidence; God is surely making a statement. Calling for prayers and strategic engagements from every quarter."
He said the Africa Leadership Summit also took the opportunity to invite political, church, business and community leaders at the prayer session to the the third biennial summit in Jerusalem in August 2017 during which the Africa Israel Chamber of Commerce would be launched.