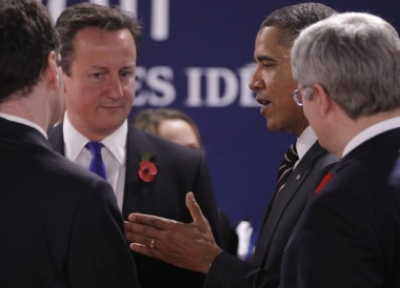 Originally published in Christian Today
President Barack Obama and Prime Minister David Cameron are expected to propose that an international coalition be founded to combat the Islamic State (IS) at this week's NATO summit.
The summit began Thursday in Wales, and will conclude on Friday. The world leaders are expected to discuss a plan to stop the slaughter, persecution, and kidnappings carried out by the extremist Muslim group.
Also on Thursday, Obama and Cameron published a joint op-ed entitled, "We will not be cowed by barbaric killers," demonstrating a united front against the terrorists.
"We will be more forthright in the defense of our values, not least because a world of greater freedom is a fundamental part of how we keep our people safe," they wrote in The Times.
White House officials, including Secretary of State John Kerry, reached out to government leaders in Australia, Israel, Italy, Jordan, Qatar, Saudi Arabia, and the United Arab Emirates this week to discuss a plan to confront the IS, according to the Associated Press.
State Department spokeswoman Jen Psaki said that officials are discussing what each country can contribute – humanitarian relief, weapons, or other resources.
"[President Obama] wants to build an international coalition," she told AP. "That's not going to be overnight. We need capabilities from many countries."
The President has been criticised for admitting last week that his administration does not have a plan to combat the IS in Syria, formerly known as the Islamic State of Iraq and al-Sham (ISIS).
"Are we going to contain ISIS or are we going to crush ISIS?" Rep. Adam Kinzinger, R-Ill., said to Fox News. "And the president has not answered that."
Mr Cameron has been more direct in his proposed response to the insurgents.
"We need to show real resolve and determination," he told British network ITV on Thursday.
"We need to use every power and everything in our armory with our allies—with those on the ground—to make sure we do everything we can to squeeze this dreadful organisation out of existence."
The IS published two videos, two weeks apart, showing the execution of American journalists James Foley and Steven Sotloff. A kidnapped British citizen, David Cawthorne Haines, has also been threatened.