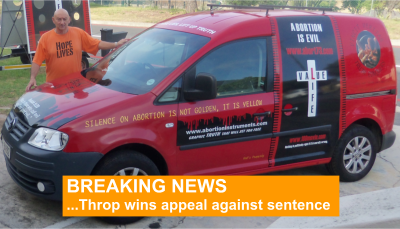 Resolute Christian pro-life activist Peter Throp has been issued with another summons by the City of Cape Town — this time for parking his so-called 'pro-life mobile' outside Marie Stopes abortion clinic in Bree Street, Cape Town on Tuesday morning (March 4, 2014).
BREAKING NEWS
: The Cape Town High Court today (Friday, March 7, 2014) upheld an appeal by Christian pro-life activist Peter Throp against a conviction in February last year for damaging property by placing pro-life stickers over illegal abortion stickers. The City of Cape Town hounded and threatened him for months, and the Mayor of Cape Town, Patricia de Lille, ignored his appeal for them to rather join him in protecting women from the illegal abortionists. In February, 2013, a Cape Town magistrate sentenced him to a fine of R5 000 or 3 months imprisonment suspended for 5 years. See
statement released by Throp
after the Supreme Court upheld his appeal.
The latest move by the City to curb Throp's anti abortion campaigning came just days before his appeal hearing in the Cape Town High Court tomorrow (Friday, March 7) against his conviction, in February 2013, for damaging municipal property by placing pro-life stickers over illegal abortion stickers. In that matter a Cape Town magistrate fined him R5 000 or three months imprisonment suspended for five years.
In this week's summons, the City says that it inspected his car in front of Marie Stopes at 6.30am on Tuesday, and found that he has contravened Section B of the Outdoor Advertising and Signage By-Law because he has not obtained written approval for the pro-life signage on the vehicle. The signage includes the statements 'Abortion is evil', 'Value Life', 'Silence on abortion is not golden, it is yellow', 'Expose lies, lift up truth' and 'Isaiah 5:20 "Woe to those who call evil good and good evil…" '.
Legal advice
Throp says he has sought legal advice regarding the latest summons. However, he observes that his intensive daily weekday prayer campaign in front of Marie Stopes has been running for just three months short of four years, during which time he has made more than 900 trips to the clinic.
"It has been a good run for the 'truth'. Maybe God wants to give me a new strategy so that the unborn can be heard, because right now, with the appeal tomorrow, and what I have witnessed, there are a lot of people, Christians included, who just want that right to kill. They are so blind and living in darkness that they don't want to relate to the extent of the killing."
Graphically describing the horror of the abortion procedure in which babies are legally killed, he comments: "As you can see,  it's all very sad for me." An estimated 1,2 million babies have been legally killed by abortion in South Africa since 1997.
It is likely that this week's action against Throp by the City of Cape Town follows a complaint against the clinic which has a track record of calling law enforcement authorities when pro-life prayer vigils and pickets have been held near its premises.
Speculating on the latest notice served on his vehicle, Throp says  it "seems to have something to do with 'third party advertising" because I park it outside the clinic every morning until 9 am. The powers that be seem to want to classify it from a 'vehicle' to a 'transit' sign. However, I have got to wait for the Advocate to look at the By-law very closely. It means that all the advertising on the taxis and delivery vehicles are acceptable, but because mine carries me to the clinic and is parked there with me, it loses its 'vehicle' status under clause 64 of the By-law."
The notice orders Throp to remove the signage from his vehicle or stop parking in front of Marie Stopes, failing which court action may be taken.