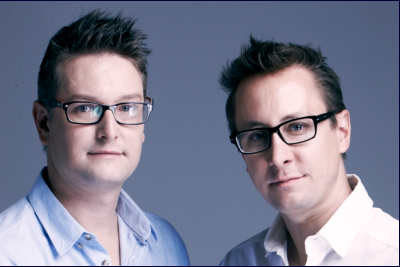 [notice]ANNA-MARIA Lombard interviews polific filmmakers Josh and Luke Rous. — Originally written for www.scratchpages.co.za[/notice]
In a television and film industry where empty celebrity, debauchery and cut-throat business are the norm, Josh and Luke Rous of Rous House Productions have nailed their colours to another mast. Their website proclaims: "As Christians the Rous brothers strive to represent a God centered worldview in their productions."
Favour follows stand of faith
The brothers see God's hand and favour on their lives every day. Luke's wife Carine, who also stars in their TV series 'High Rollers', had a prophetic vision when they got their first of four rejections before the show was finally commissioned. Says Luke: "She saw two paths. One was rocky and bumpy, with a wagon pulling into the distance, bumping all over the place – that was the SABC's path of uncertainty, going up and down with highs and lows. God's road next to it was straight and solid and unwavering. We had these two choices – one being thrown at the mercy of a broadcaster who didn't even know who would be in charge of it from one month to the next. The other – we know who is in charge of our lives. God is running the race with us. He's the one who we trust and have our faith in and plan our lives by – not by the broadcaster's whim. That has been our testimony with this show – rejection after rejection we've constantly held onto God's promise…we were not going to be deterred."
Multi-award winning television and filmmakers, comedy producers, writers, directors, employers, entrepreneurs, dreamers, visionaries, pursuers of excellence…and men with a passion bringing the light of Christ into the world. And perhaps an even deeper motivation: to make Christians interrogate their beliefs deeply – to grow beyond a one-dimensional view of themselves and Christianity. Much like they have done in their own lives.
Luke says they have seen Christian friends suffer for living their faith in the marketplace. "It can backfire badly," says Luke, "saying you're a Christian company opens you up to massive criticism…you can't make a simple mistake, then you're called a hypocrite."
Broadcasters pay notoriously little, but Rous House has taken the stance that they won't cut corners. They will produce quality, and pay people what they're worth. "I can't be motivated by fear," says Luke, "I must be motivated by faith – that I've been placed here for a reason, that God has a purpose for my life; that the set of skills I have are there to benefit Christians and non-Christians alike, and I'm trying to run a company that at its core has Christian morals and ethics in place. We try to be fair and equal, we're providing work for hundreds of people throughout the year and we don't take that for granted at all, it's a massive responsibility."
In a struggling local television market, it is exciting to witness how favour has followed the Rous brothers. In April this year, their series "High Rollers" took to the air (Tuesdays, 20h30, SABC3). The first local drama series to be commissioned after a long drought by the financially troubled national broadcaster, High Rollers has not only created substantial employment in the industry as a 26-part series of hour-long episodes, but the storyline hinges on characters that deal with hard-core issues of faith – sin, repentance, redemption, restoration, backsliding, surrendering to God, victory in Christ. The brothers' next TV series, 'Geraamtes in die Kas' starts airing on October 29.
Like their main character in High Rollers – a prisoner-turned-pastor – Josh and Luke both know what it means to interrogate their faith. To go from blind acceptance of rules and religion, to an intimate relationship with Christ.
Having studied theology and medicine, their father joined a small church in Pretoria after returning from a stint as a mission doctor in the furthest outposts of rural KwaZulu-Natal. The Rous brothers and their older sister (Lisa-Joe Baker, Christian blogger at lisajobaker.com and author of "The Cheerleader for Tired Moms" now living in the US) had a solid foundation of family and church life in Christ. But their world was rocked when their mother was diagnosed with cancer and died after a struggle of two years in 1992.
Impressionable pre-teens, Luke and Josh saw their father's disciplined faith life shaken – how he was torn between medicine and God. Over the next decade he too would undergo a radical deepening in his faith as he questioned what he had always believed. Meanwhile, Josh became ever more religious. "It was a set of rules that I followed, but there was no relationship with Christ. With my mom's death, and my dad unraveling, I felt this huge responsibility, a need to keep it together. Religion became a way to let things not fall apart."
Josh won a bursary to study drama at the Pretoria Technikon, though it had never been his life's ambition to act. He treated it as a gap year, after which he set sail for the United States to study business at a Christian college. It was here he felt his relationship with Christ break through. He was able to mourn his mother and for the first time experienced the Holy Spirit and the love of God. And yet he felt disillusioned by the superficiality of Christianity – "I had lot of acquaintances and no real friends".
Change of direction
Finished with his fourth year and on the verge starting an MBA, Josh realised he hated business. He applied for a place at the prestigious University of Southern California's film school where the likes of George Lucas of Star Wars fame had studied. He finally felt at home.
Back in South Africa Luke barely scraped through school, but then became a top student at the Johannesburg film school AFDA. The religious base of his youth was all but forgotten as he immersed himself in the wild student life. The brothers would spend holidays together at home and finally became friends. They began to dream together about the films they could make.
At the end of seven years in the US, Josh was packing up to come home when Luke sent him the script for a pilot episode of a comedy series. The brothers moved in together and started developing the idea with some partners. After a few brutal set-backs, the series was picked up by the SABC and became the highly awarded City Ses'la that set a new standard in award-winning homebrewed comedy and ran for four seasons.
Alive in Christ
In this time Luke decided to mend his ways and found a church home. "My father had preached this stuff to us our whole lives and I'd never thought much about it, but coming to New Covenant Church Bryanston, I got to challenge and think, really think about what my dad had been preaching and I realised that what he'd been sowing into my life was truth. Some things I didn't agree with, but God came alive to me. I got baptized, filled with the Holy Spirit and knitted into a local community, which is really important – people who could witness my life…help me live out Godly principles."
More award-winning comedy shows followed – Gauteng Maboneng and Ga Re Dumele, now in its third season. In the process they nurtured talent, mentored and transferred skills. Josh also co-wrote and directed the feature film "Discreet" in 2008, following the events of one night during which a Christian man visits a prostitute. The film unpacks a number of no-go zones for the general movie audience – faith, sex, marriage. It ran on the commercial film circuit to critical acclaim. In 2011 Josh directed "Semi-Soet", a blockbuster Afrikaans romantic comedy.
In 2008 Luke got married and the brothers formed Rous House Productions. They developed "High Rollers" in answer to the SABC's annual call for proposals. It took many rejections before the series was finally commissioned, but the brothers trusted God, refusing to push things in their own strength. Prophetic words and visions kept them on track.
Showing the grapplings of real Christians
Rous House wants to show how real Christians grapple with life. They want to show the light and the dark, knowing that in Jesus, light wins. "So many Christian films are really sermons – they do have their place, but I feel like I'm being told what to think instead of being challenged. I want to make a film that might offend, but that will make people think more deeply about the values that they hold," says Josh.
High Rollers is set in a casino, where the brother of the Casino kingpin gets radically reborn in prison and comes out a changed man. He has to face his family and the demons of his past, while his brother has not only married the woman he loves but is raising his son. How does a man of faith deal with that?
Josh says he wanted to see on television a Christian character that was close to his experience of being a Christian—someone who was working through their faith, was loving, made mistakes, was humble, sometimes judgmental…trying to work through it all. "I know a lot of Christians who have depth, who are three-dimensional, but in the media they are always represented as one-dimensional religious disciplinarians," he says.
"Jesus used parables, analogies to explain certain truths," says Josh, "so I'm going to use what's at my fingertips to make people feel something. When you preach at people, their defenses go up… tell them a good story, they engage".
The more they work together, the more they WANT to work together, says Josh. And as I watch the brothers honour one another for their skills and talent, I'm reminded of Psalm 133: "How good and pleasant it is when brothers dwell in unity…For there the Lord has commanded the blessing, life forevermore."