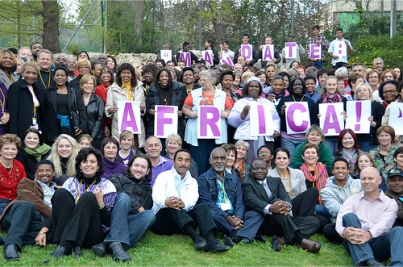 Praise, prophetic declarations mark season for Africa to arise
For centuries it has been called the dark continent but 240 South African Christians who participated in a prophetic assignment in Jerusalem in March believe that Africa will be known as the continent of light.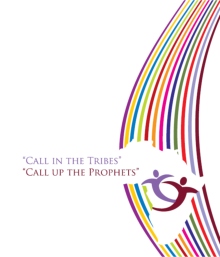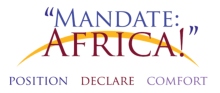 The pilgrims from various sectors including the church, media, arts and business, are convinced that the time for Africa to arise has come, and that God called them to Jerusalem to carry out a mandate that was part of fulfilling His plans for spreading revival through the continent.
And so, the group, which included church leaders representing the five fold ministry (apostles, prophets, teachers, evangelists and pastors), went to Israel and obeyed the Holy Spirit by ministering through poetry, song, dance and an inspiring display of unity.
Lindie Gouws, visionary leader of the "Mandate:Africa!" assignment in Israel, says the mission was the culmination of many prayer movements and ministries that had ploughed faithfully into the soil of Africa over centuries.
She says a key Bible verse that confirmed the mandate is 2 Chronicles 11:16, which says:  "Those from every tribe of Israel who set their hearts on seeking the LORD, the GOD of ISRAEL, followed the Levites to Jerusalem to offer sacrifices to the LORD, the GOD of their fathers."
Why was a group of Christians from South Africa called to Israel on behalf of the African continent? Lindie says the answer is that God ordained it and He knows.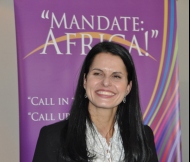 She says the mandate was summed up in the words "Position; Declare; Comfort". Africa was to be positioned as a continent set apart for praising God. They were to declare the Word of the Lord for Israel and the purpose of God for Africa. And they were to bring comfort and blessing to the people of Israel.
Praise was a key part of the assignment, and the participants were called to "make the sound as the Bride of Christ" — a praise declaration on behalf of the Bride of Christ in Africa.
Gifted for praise
"A unique gifting has been given to Africa and Africans as a people group," says Lindie. "We have been gifted by God to praise! Praise is a very powerful force in God's Kingdom and throughout God's Word we see the significance, relevance and essence of praise. "
During the team's stay in Israel they moved in groups named after different tribes of Israel, praying, praising God African-style,  and proclaiming Africa's destiny.
Describing the final two days during which everybody gathered in Jerusalem,  Lindie says: "On the evening of the 28th of March 2012 all the leaders participated in prayer, repentance, an authentic AFRICAN PRAISE song was sung and five and a half hours later, with not a person moving we made the sound as the bride of Christ."
On March 29 she says she could boldly state, "The Cornerstone of it all is JESUS CHRIST!"
During their time in Israel the group interacted with ordinary Israeli people and local and national government representatives. Lindie says they received feedback from local people that they had never witnessed such pure worship and beautiful praise.
Media partnership
Through a media partnership, with a total reach of 20 million people, "Mandate: Africa!" received extensive publicity and will continue to do so. The assignment brought people together who would not normally have spent time with each other and promoted unity among leaders which continues to bear fruit.
As leadership we have dedicated the 30th of every month as a day of prayer [the day which we arrived back on African soil] as a day of prayer for Africa and for the peace of Jerusalem. We would like to call upon all our fellow brothers and sisters in our LORD JESUS CHRIST to join us. For more information, please visit www.mandateafrica.co.za.
Leaders who participated in the adventure with Lindie included: Thuli Makhene; Linda Gobodo; Kevin Davis; Esté Geldenhuys; Segun Olanipekun; Gerhard Marx; Peter Sekhonyane; Jonathan Naidoo; David Molapo; Joyce Scott [America]; Lindie Strydom [DKNT Gospel]; Ivan Siegelaar [Radio Tygerberg]; Joe Niemand and Elza Meyer.