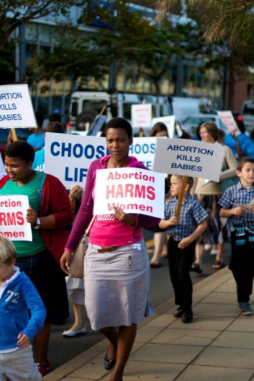 The annual National Alliance for Life (NAL) Conference and March for Life will take place respectively on Saturday October 3 and Sunday October 4, 2015 in Durban, and other pro-life events will take place in Cape Town, East London and Bloemfontein to coincide with International Life Chain Sunday — the first Sunday of October each
year.
All pro-lifers and pro-life ministries in South Africa are invited to participate in the NAL Conference from 9am to 1pm on Saturday, October 3, at Gateway Christian Church, Umhlanga. Contact Doctors for Life at mail@dfl.org.za or 032 481 5550 to participate. The conference provides an opportunity for pro-lifers to report back on their efforts to promote life from conception to natural death in our country where more than 80 000 babies are legally killed by abortion each year despite overwhelming public opinion against abortion.
The March for Life on Sunday, October 4, will commence at the corner of Centenary Blvd and Zenith Drive, near Gateway Mall, Umhlanga, at about 2.30 pm, finishing at about 4.30pm. Last year's march was attended by more than 2 000 people.
Life chains (peaceful placard protests against abortion) will be held at the following venues:
Cape Town: Sunday, October 4, 2pm to 4pm, Buitengracht Street, near entrance to Waterfront. Contact: Africa Christian Action: 021 -689 4480 or info@christianaction.org.za. In Cape Town pro-lifers are also invited to participate in a 40 Days for Life prayer vigil outside Maries Stopes abortion clinic at 91 Bree Street, Cape Town from Wednesday,September 23 to Sunday,November 1, 2015. Contact Colette Thomas at colettethomas.hli@gmail.com for more info on the 40 Days for Life vigil.
East London: Saturday, October 3, 11am to 12pm, corner of Oxford Street and St Mathew's Roads. Contact Frans van Aardt: 082 774 6649.
Bloemfontein: Daily from 6.30am to 10.30am from Saturday, October 3 to Friday, October 9, outside the National District Hospital and Marie Stopes abortion clinic. Contact Faan Oosthuizen: 083 265 9395, sdoosthuizen@xsinet.co.za.