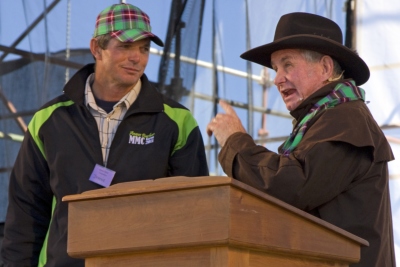 As busy as Angus Buchan has become travelling to conferences all over the world, his heart is still lifted by attending local Mighty Men Conferences.
Buchan has just returned from the Bushveld Mighty Men Conference in Polokwane, Limpopo  and he can't wait to attend the Karoo Mighty Men Conference (Karoo MMC), which is set to take place from April 27 to 29 on the outskirts of Middelburg.
"The Mighty Men Conferences are the fulfilment of the commission that the Lord gave to me in 2003, so every time I attend one of these events I am filled with gratitude to the Lord.
"To be among the boys again is wonderful. Mighty Men crowds are my favourite even though I have the privilege of speaking to many and diverse audiences."
During this year alone Angus will be speaking at conferences in Israel, England, the US, and Canada.
He says last year's Karoo MMC was "amazing; the peace, love and hospitality was exceptional".
"The Karoo boys are very special to me."
Angus still has difficulty coming to terms with the growth of the Mighty Men phenomenon.
"In 2003 the Lord said to me, 'I want you to be a spiritual father and mentor men in your nation'. I thought it would entail about five or 10 men, I had no concept of what was forthcoming; someone has just phoned me from California and enquired about holding a Mighty Men Conference there.
"It is like living on a roller coaster, doors are opening everywhere. For example, Pat Robertson has invited me to appear on his TV programme, The 700 Club, which is a Christian TV programme airing on channels throughout the United States and on Christian Broadcasting Network affiliates worldwide, when I travel to the US.
"Locally we are on national television six times a week and are being put onto 45 radio stations throughout Africa."
Angus recently attended the premieres of the film 'Ordinary People', which is based on true events that have taken place at Mighty Men conferences, and in three days between the Thursday evening and Sunday morning 60 000 people had attended showings.
"However, it is all God's work, I am just an 'ordinary person', a semi-literate farmer. It is the hand of God at work, he uses nobodies, people like you and me, but He requires faith."
Buchan says the essence of Mighty Men Conferences is to encourage men to take up their rightful role as prophet, priest and king in their home, in their workplace and in the nation, because we are faced with a fatherless generation.
"Young men will follow somebody and if the right people are not there as role models, they will follow the wrong people.
"The essence of Mighty Men is to raise up men to be responsible citizens, responsible fathers, responsible husbands and responsible leaders according to the mandate that has been given to us as sons of God through Jesus Christ."
Buchan's  example to young men is dependent on God's grace, on God's love: "… because I am a sinner saved by grace," he says.
"On the day I gave my life to Christ on 18th February 1979, I entered into an agreement with the Lord. I made a covenant with my God that I would start doing things His way.
"I would love Him with all my heart. I would honour my wife. I would respect my children. I would not antagonise my children. I would love my neighbour," says Angus.   
To learn more of Angus' example and his relationship with his Holy Father he invites you to attend the Karoo MMC and enjoy a time of fellowship together with other children of God.
For more information contact Ruthi at info@karoommc.co.za, cell no 079 947 3566, or visit the Karoo MMC website at www.karoommc.co.za or Facebook page at Karoo Mighty Men Conference.