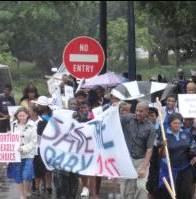 About 5 000 people are expected to participate in the NAL March for Life in Umhlanga, KwaZulu-Natal on Sunday, October 6, says the National Alliance for Life in a media statement.
The march is a celebration of life and a rejection of abortion says the NAL which is an umbrella body of various pro-life groups. The march will start at the Umhlanga Sharks Board parking lot at 2.30pm on October 6. A petition to Government will be signed by pastors from various churches at the end of the march. The NAL urges Christians to support the event and to turn out in numbers to speak for those who cannot speak. A flyer and a poster promoting the NAL March or Life can be downloaded from the Doctors For Life website. 
Life Chain events on the same weekend are also planned for Cape Town and East London (See details at end of this report).
40 Days For Life
And in Cape Town and Paarl, groups will join others in 306 cities in the United States and in seven other countries, in holding 40 Days For Life campaigns from September 25 to November 3. In Cape Town, Collette Thomas, who launched South Africa's first 40 Days For Life in February, will once again coordinate the 40-day pro-life prayer vigil outside the Marie Stopes Clinic abortion clinic in the city centre. Adri Holm is coordinating the Paarl event outside Paarl Hospital (See details at end of this report).
Since abortion on demand was legalised against the will of most South Africans in February 1997, more than a million babies have been killed by legal abortion in SA.
The March for Life is an event that is supported by pro-lifers in various countries once a year. In January 2013, more than half a million people participated in the 40th annual March for Life in Washington DC, USA, and in May a record 25 000 marchers participated in the March for Life in Ottawa, Canada.
The international 40 Days for Life campaign which has grown substantially since its inception in 2007 reports that as a result of its campaigns  7 536 lives have been spared from abortion, 83 abortion workers quit their jobs and left the abortion industry, and 40 abortion facilities shut down following local 40 Days for Life campaigns.
Details of pro-life events are:
September 25 to November 3
October 5
East London – Life Chain: 11:00am – 12:30. Meet on the corner of Oxford Street and St Matthew's Road, around the corner from Marie Stopes Clinic. Contact Frans 082 774 6649 or Judy 043 – 726 9900, jvan@iafrica.com.
October 6
Cape Town – Life Chain: 2:00 – 4:00pm. Buitengracht Street, near entrance to Waterfront. Contact: Africa Christian Action: 021 -689 4480 or info@christianaction.org.za. Facebook event page.
Durban – National March for Life:  2:30 – 5:00pm, meet at Sharks Board Parking Lot, 1A Herrwood Drive, Umhlanga. Organised by the National Alliance for Life, Contact: sindi@dfl.org.za, 032 – 481 5550.
Africa Christian Action report that details of Life Chains in other cities will be announced soon.