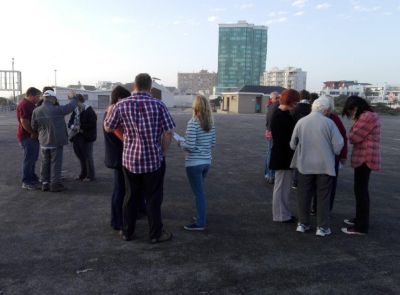 When the going gets tough Christian pray — knowing well that our prayers are powerful and effective.
The ongoing unrest on South African campuses has prompted a number of payer campaigns — such as a seven days of prayer for universities initiative (#Lordhealourland) taking place from 6am from October 19 to October 26 on the Port Elizabeth beachfront close to the NMMU campus.
Elizabeth Hempel, prayer coordinator at Westway Bethel Community Church and a former missionary in Central Asia who is well-acquainted with the power of prayer, said that last week as she watched video clips of unrest on campuses it broke her heart and she felt God prompt her to arrange a seven day prayer focus.
She said she wrestled with the Lord's prompting — hoping God would raise somebody else and  then hoping that she was off the hook when NMMU appeared to be opening again on Monday but knowing in her heart what God required. God confirmed the calling through different ways and after discussing it with her husband, Gary, they put a prayer call out to local churches and hoped for the best.
On Tuesday October 19 she and her husband went to the prayer rendezvous spot on the beachfront wondering if anybody else would join them. She was encouraged when seven other people showed up — six from her own church and one from another church.
Gateway News followed up with Elizabeth yesterday after the group's second prayer outing. She said in an email: "We had a good morning. I think I counted 20 people this morning. So that's almost triple the number we had yesterday. Three other churches were represented this morning, so in the last two days we've had people from five different churches come and pray which is great.
"We start by praying at Something Good [roadhouse] and then we prayer walk to the corner of Admirality Way. Not everyone joins the prayer walk part, which we understand, as they either have to leave for work or aren't able to do the walk.
"Our focus this morning was on Daniel 10 – the spiritual battle.
"[I] Heard things were hectic at university this morning with cars being stoned – not surprised as the enemy is unhappy with prayer efforts concerning the issues at varsity! Our God is greater!"
Anybody wishing to join can link up with the group at Something Good at 6am until October 26. Call Westway Bethel Church at 041 360 0292 for more information.