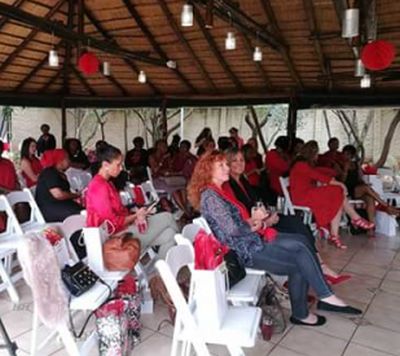 More than a 100 women made their way to the Beautiful Series event hosted by founder Hannah Viviers at the Protea Ridge Guest Lodge recently. Hannah's vision for the Beautiful Series event is to see us women: Reclaiming our Beauty, Power and Purpose. There are many things that can weigh us down to a point of giving up. Life challenges can leave one feeling drained without any will to fight. Life can throw you stones that you feel that you have nowhere to run to and to escape. What The Beautiful Series does is to introduce us to women who have walked similar paths to ours. They are relatable women whose stories we can connect to. They remind us of our power and of our beauty and teach us with God all things are possible. Each woman's story teaches us that there is hope. God can turn any situation around.
The line-up of speakers at the recent Beautiful Series covered a variety of topics from having a healthy self-esteem to looking after one's physical health.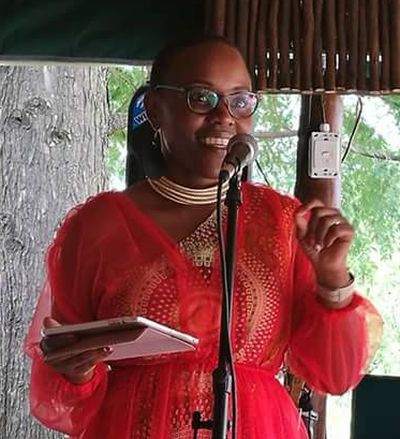 Warrior princesses of the Bible
Duduzile Ndlovu began her talk describing what most people think of when they hear the word "African woman". Most of what people picture is not positive. She went on to challenge this image of who we are said and believed to be. She then spoke about what she calls Warrior Princesses from the Bible. The Bible is full of amazing women warriors that are hardly spoken about. She spoke of Mary the mother of Jesus, Deborah the woman who led Israel as a Judge … She spoke of the remarkable inspirational Proverbs 31 woman. Dudu emphasised on the verse that says, the woman in Proverbs 31, "She considers a field and she buys it!"
Women are portrayed in various roles in the Bible, business women, mothers, wives — there are so many things yet women today are compelled to fit into some stereotypical box. She shared of how God had freed her from this to owning who she is and declaring her own identity. She hopes more and more women awaken to the desires God placed in their hearts and break out of the limiting mould the world has boxed us into.
Wearing the labels of the world
Ashika Ramparsad spoke about her weight loss journey and the things she did to lose the weight. While she battled with weight, she spoke of the judgement she received from relatives with regard to her weight. One family member called her ugly. At one stage her doctor declared her clinically obese. She wore all these labels and decided, if that's what people were going to say of her she was going to live it — and she did, pilling on the weight even further. What jolted her from the path she was on was one day watching a TV program called "You are what you eat", and in it one of the subjects was shown what she would look like in ten years if she continued on the path she was on.
Ashika was shocked because she was living a similar lifestyle. She realised if she didn't turn things around what awaited her in ten years was terrifying. She began to make small changes to her life style one day at a time. She spoke about making the decision to follow-through on goals she'd set herself and advised the audience to set goals for themselves when working toward something.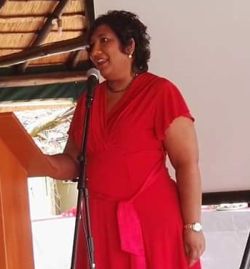 Taking responsibility for your life
Nishani Ford shared her story of being in an abusive marriage and how after 13 years of enduring the abuse she made a decision to divorce her husband and to come out of that relationship. Her story is one of sheer grit and determination as she fought for sole custody of her two boys; how at age 36 she went to university to improve her chances of landing a better paying job so she could afford to look after her children. She encouraged the women to face their demons and take responsibility for their lives. One early morning she found herself penning a poem expressing her desire to be free.
This is some of what she said:
It was 2am in the morning when that poem came into my spirit as I penned it down and put the pen on my bedside I turned to look at the face of my abuser, turned into the face of the father of my children who later would become a sexual molester. I turned to face a man that I had loved for 13 years. It was 2am in the morning. "Courage, courage she screamed. Trapped set me free to be magnificent celebrated me" (Lines from the poem). It was 2am in the morning and the year was 2007. I was working in an entry role in an organisation. I was a mother of two boys who lived and witnessed all of that abuse all their lives. Two boys who witnessed their mother screamed at, shouted at and put out sometimes in the cold winter and locked out of her own home, two boys who one day saw their father hold a knife to their mother's throat. In that moment I knew I would die.
So began the journey of getting out of an abusive relationship. It took me three years of planning. It took me understanding that I wanted full custody of my children. In the three years of planning and moving out of my home I knew that I had to increase my salary substantially if I was going to have the life that I wanted to give my children so at that age of 36 I went back to study and went to UCT it was not easy. I also went to WITS. I did four qualifications concurrently in that time.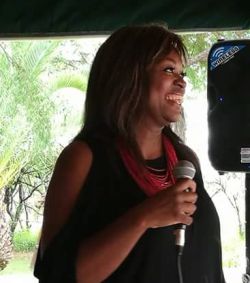 This is a story of how God can take something that is so messed up and do what He will with it. Wholeness is possible. When life gives you lemons you need to make lemonade. Mine was that bit of lemon they dispose on the compost heap. That bit that rots that no matter what you do. No matter what you say you are just not getting a break. For 20 years I couldn't get a break. I couldn't breathe. I didn't know who I was. I didn't know who I wanted to be. I didn't know what I like what I didn't like. I had completely disappeared under that rock. The best thing about being discarded on the compost heap is that it turns to compost and it gives new life.
The seemingly hopeless hole of addiction
Nishani shared another sad aspect to her story. When her husband left, her 13 year old son confided to her that he was addicted to heroine and needed her help. It was this same son who years later would hold her hostage for two hours, who tried to stab her managing to crack her ribs. She confessed some of the hopeless feelings parents of children who are addicted feel. She spoke about the grief and the sorrow that one lives with daily. "You understand the loss that you have to live with daily, the dreams that you have to give up, the comparison that people make." She advised women not to get into the hole with their friend who they are trying to help because you will both end up in the hole helpless. She said as a friend of one who is in a hole she would rather pull out the ladder and stand at the top of that hole every step her friend takes even if it is backwards, she will be there to hold the ladder until they are both standing shoulder to shoulder.
Nishani told the audience: "Do not wear your wishbone where your backbone ought to be. Don't wish I was thinner; I was free, I was this. Be brave, look your stuff eyeball to eyeball. Do the work! Be ready to put your shoulder to the grind and work with God and do the work that you need to do. This isn't for people who are not brave. This is for warriors. Take responsibility. It is a very hard thing to do. I had to take responsibility for my part in hurting my children for 13 years. I had to take responsibility for not leaving. I had to take responsibility that I was in a financial mess. I had to take responsibility that I didn't study when I was younger. When you start taking responsibility you are no longer a victim. You move from a victim mentality into a creative mentality.
Nishani encouraged women to stand in faith. She said we can either look at our circumstances or we can look at God. Her parting words to the women were: "Every one of us has a sphere of influence and it is time that we heard your voice. What are you waiting for? It is time to arise and be who you are called to be"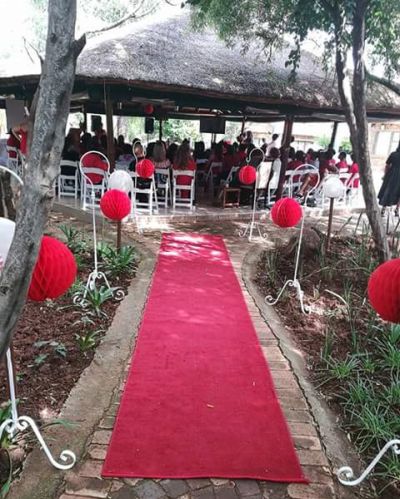 God's transforming grace and love
Jenna-Leigh Bilong is a co-pastor of Grace Court Impact Centre and a news anchor at e-TV. Her story speaks of the grace of God and His love that can transform a life. At 15 Jenna- Leigh was living in a squatter camp. She found her way there because it was there that she had friends who shared her passion for music. She wanted to belong. Unfortunately, her experiences at the squatter camp forced her to grow up fast, so fast in fact that she was married at age 18. She was married to a man who abused her. The abuse took many forms. At times it was verbal and at times it was physical. Her abuser even beat her with a hammer and threw a bunkbed at her. She told the story of how she had to fake her own death just so that her husband would not kill her.
These were some of her encouraging words to the women who attended:
Our stories are more alike than we are different. Our pain is more alike than we are different and our struggles are more alike than we are different. If we could just learn the skill of drawing from each other's experiences and pain we will be such a better nation. Allowing your pain to birth purpose. Every single pain that you go through births purpose. The pain that I went through in the squatter camp pushed the purpose that I am living in today. If you just allow the pain to cause you to push, you will birth purpose. Your pain is very loud. So if you will not get to the place that your faith is even louder, your pain will overtake you. There is no single pain that is not causing you to birth purpose. Even Jesus had to be born. He didn't just appear in the earth, Mary had to push. The ultimate purpose came through that push.
Your pain is going to birth purpose. Do not take anything with you into your next season that is not supposed to be there. Sometimes we want to take something familiar into our next season. Whether it is aggression; whether it is unforgiveness; whatever your previous season birthed dear Rachel do not take it with you. Whatever you are hiding under the saddle of the camel do not take it with you continue to push because God has purpose for you. I decided to fight. I know you are scared in that moment. It can be your career, it can be spiritually you are going to have to stand up and fight because the devil is very serious about his business. We take our faith very lightly. Some demon somewhere is planning their strategy, you don't even know how a prayer closet looks like. You have to stand up for your purpose and fight. Nothing that you have done can ever take away the purpose and the love of God for your life, nothing. Once you repent He is right there waiting for you.
All those who attended felt the presence of God there as He was touching each life. Those who went to the event came back lighter as their burdens were lifted and they were released from all that held them bound. We left revived, encouraged and bolder about approaching the challenges in our lives.